Lukashenka Hit By Boomerang Effect
11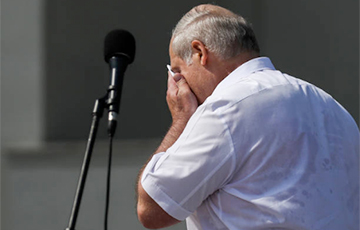 There are "agents" everywhere.
The boomerang effect. It turns out that illegal migrants tend to come back. "Probably after getting acquainted with the European paradise in Lithuania, they finally decided to return to Belarusian stability," the Nick and Mike telegram channel ironically says.
Indeed, a cozy hotel "Yubileiny" or "Minsk" by the administration of the blue-fingered one and strolls around the evening Minsk are better than a temporary camp for refugees.
To be completely happy, you can also write a complaint to the "Center-resort" or some other firm, which guaranteed "problem-free transfer". And file a lawsuit with the Belarusian court demanding compensation for substandard service. Or to write a statement to the police for fraud.
And the statement of the crazy leader of the junta, that illegal migration is "the handiwork of the Lithuanian bandits" is totally cool. Mike and I have to raise our hats to the Lithuanian underworld. They have infiltrated their agents into the very heart of the regime - the very companies of the administration system, as well as the Iraqi airlines and, certainly, the Belarusian border service, including the most closed division - OSAM, which is supervised by his son Viktar. Or is his real last name Lukashenkievicius?
There are agents everywhere - after all, organizing an air bridge Baghdad-Minsk and a transfer to the border with Lithuania is not a simple task, requiring more than one agent.
Although, in fact, everything is simple. The Lithuanians do not see the organizers of illegal migration, because they are only in the head of the blue-fingered terrorist. Next to Gaddafi and Milosevic, who are in his dreams.
Delirium is delirium.
And since, in that same sick head (which, by the way, was not shown closely on TV again), the GDP is growing by 3% as a result of sanctions (well, what is the magic!), then we need more sanctions. Let's make the blue-fingered man happy - the U.S. ones are already on the homestretch. We are looking forward to GDP growth of 3,333 percent. Advise the Horde unions to withdraw their complaints about sanctions and start piling up requests for more, stronger and more frequent ones. How can you break away from the general party line? We must ensure the growth of GDP, otherwise it's sabotage.