Svetlana Alexievich Admired Courage of the European Belarus Activist
1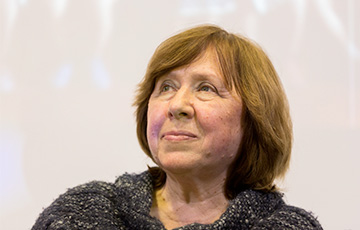 Palina Sharenda-Panasiuk bravely stood her ground in court.
Belarusian writer, Nobel laureate Svetlana Alexievich, in an interview to Radio Svaboda, noted the courage of the activist of European Belarus, Palina Sharenda-Panasiuk:
- If Lukashenka disappeared from life today, the country would rush to change. It would be a completely different country. And we are again losing the historical time. Instead of historical time, we live in a biological one - the time of ordinary life, the time of saving ourselves and our families.
One hears history when one reads the materials of the courts, the last words of the defendants being sent to penal institutions.
The dignity of young people, the way they understand their future is impressive.
I recall Palina Sharenda-Panasiuk's speech in court - two children, her husband under house arrest. What dignity she showed when speaking to the judge, how fearless she was.
It all goes to the people; it remains somewhere.
We should remind that an illegal court sentenced Palina to two years in prison.
The activist from Brest is known for her clear and uncompromising position towards Lukashenka's regime. During the "parliamentary elections" in 2019, which she took part in, the European Belarus activist said on TV that Lukashenka was a dictator and also called for his resignation.
Palina Sharenda-Panasiuk is a Polish language tutor. Together with her husband, European Belarus activist Andrei Sharenda, she raises two minor children.