Mikalai Salianik, an Activist From Hrodna, Has Died
9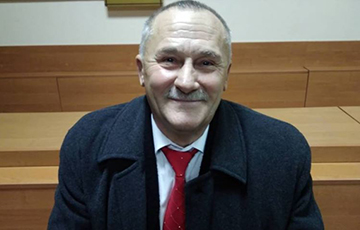 The 66-year-old activist passed away tonight.
Mikalai Salianik, an activist from Hrodna, died last night, Belsat reports. The relatives promised to provide more details later.
Mikalai Salianik was 66 years old; he was a member of the Belarusian National Congress. He had a disability of the second group due to heart disease.
The activist is known for his performances: for example, he came to court in prison uniform and handcuffed himself; during the trial, he covered his mouth with duct tape, chained himself to a barrier counter in the courtroom, arranged a funeral for the Constitution of Belarus.
Mikalai was repeatedly detained and tried; after arrests, he often ended up in the hospital with a hypertensive crisis.
When blogger Siarhei Tsikhanouski and his associates were detained in Hrodna last May, Mikalai Salianik led about a hundred people under the building of the Internal Affairs Directorate to find out about the further fate of the detainees.