Joe Biden Meets with Svetlana Tsihanouskaya
145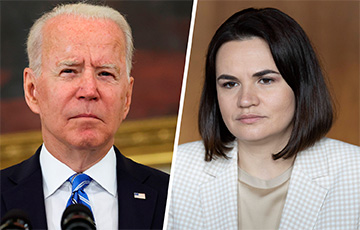 The US President welcomed Svetlana Tsihanouskaya at the White House.
Svetlana, who is continuing her visit to the US, met US President Joe Biden at the White House.
A correspondent of the Voice of America at the White House reported it.
Только что состоялась встреча Светланы Тихановской @Tsihanouskaya и президента США Джо Байдена. pic.twitter.com/totPkTcSgM

— Misha Komadovsky (@komadovsky) July 28, 2021
Leaving the White House, Tsihanouskaya told Voice of America:
"Yes, I met with the President of the United States of America. You know how busy President Biden is. The meeting did not last long - about 15 minutes - but it was a very warm welcome. I saw a man who cares about the situation in Belarus.
I was honored to meet with @Tsihanouskaya at the White House this morning. The United States stands with the people of Belarus in their quest for democracy and universal human rights. pic.twitter.com/SdR6w4IBNZ

— President Biden (@POTUS) July 28, 2021
I delivered our messages to the President that the struggle in Belarus was not a geopolitical one. It is our struggle against violence and lawlessness. We share the same values, and I am leaving the White House confident that the United States will be with the Belarusians now and after the new elections. I believe that everything we have discussed with Mr. Biden's advisers and his representatives will be fulfilled.