Who Helps Illegal Migrants From Belarus Who Go to Lithuania?
10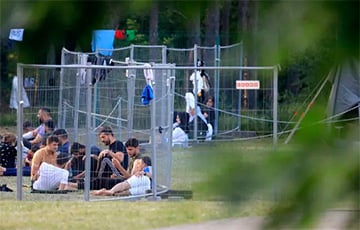 The journalists conducted an investigation.
Lithuania's main problem right now is illegal migrants from Belarus. There are 39 times more of them! Who are these people, who are helping them, and why is all this beneficial to Lukashenka? Meduza retells its investigation into the migration crisis.
In the spring, the migration crisis began in Lithuania. Hundreds of people from the Middle East and Africa come to the country, and all of them came through Belarus. Compared to last year, the flow of illegal migrants across the Belarusian-Lithuanian border has grown 39 times.
Lithuania has already accused Belarus of aiding illegal immigrants, tightened the rules of stay for them, and began to erect a barbed wire fence at the border.
Several media outlets - Lithuanian 15min and LRT, as well as Belarusian Reform.by and Mediazona Belarus - told how migrants get to Lithuania, how much they pay for it, and from whom they receive help. Meduza recounts these investigations.
First, about the migration situation in Lithuania in general
In the summer of 2020, Lithuania, along with other EU countries, did not recognize the results of the presidential elections in Belarus, of which Aliaksandr Lukashenka was declared the winner. Vilnius imposed sanctions on Lukashenka and gave refuge to his rival in the elections, the leader of the Belarusian opposition, Sviatlana Tsikhanouskaya. Many Belarusians who left the country for political reasons after the elections also moved to Lithuania.
In the spring of 2021, amid deteriorating relations with Belarus, Lithuania announced a growing flow of illegal migrants entering the country through the Belarusian-Lithuanian border. Over the entire 2020, 81 such migrants were detained in Lithuania.
By the beginning of April 2021, there were already 90, and by the beginning of July - 800. As of July 28, 3145 people were detained trying to illegally enter Lithuania through Belarus. How many migrants managed to cross the border is unknown.
Due to the migration crisis, Lithuania declared an extreme situation, requested assistance from the European agency Frontex for the protection of external borders, and decided to build an additional barrier on the border with Belarus (the length of this border is 679 kilometers). The Lithuanians have already begun to erect a fence with barbed wire, but there was not enough wire. Estonia and Ukraine volunteered to help with it.
Here's what Lithuania and Belarus have to say about it
Vilnius accuses Minsk of organizing the flow of illegal migrants. The Belarusian authorities specifically send foreigners to the Lithuanian border through one of the state travel agencies, said Lithuanian Foreign Minister Gabrielyus Landsbergis. And the Minister of Internal Affairs Agne Bilotaite called the growth of illegal migration "an element of hybrid war."
Minsk rejects accusations of complicity with illegal migrants and assures that - as before - it is doing everything to detain them. And the growth of migration is associated with a pandemic and aggravation of economic problems in the countries of the Middle East and Africa, said Sergei Rachkov, head of the permanent commission on international affairs and national security of the Council of the Republic.
But Lukashenka's rhetoric differs from that of officials. He openly says that the Belarusian authorities do not interfere with the illegal crossing of the Lithuanian border - and he also explains this by a hybrid war. "We stopped drugs and migrants - now you will eat and catch them yourself," he said in May, after an emergency landing of a Ryanair plane in Minsk.
- Today they [Western countries] howled. Ah, Belarusians do not protect them. Thousands and thousands of illegal migrants rushed to Lithuania, Latvia, and Poland. <...> I just want to ask, have you all gone crazy? You unleashed a hybrid war against us and demand that we protect you, as before? - Lukashenka added in June, shortly before the introduction of sectoral EU sanctions against Belarus.
In response to the sanctions, Belarus suspended the readmission agreement with the EU. Now migrants from third countries who arrived in Lithuania through Belarus cannot be expelled to Belarusian territory. They can only be deported to the country of their citizenship. In the case of migrants who are now massively detained in Lithuania, these are most often Iraq, Turkey, Syria, and African countries.
How migrants get to Belarus and how much does it cost
Most of the migrants who are detained at the Belarusian-Lithuanian border are Iraqi citizens of Kurdish nationality. They usually get from Iraq to Belarus by plane, like tourists.
Direct flights between Baghdad and Minsk opened in 2017. And, in May 2021, their number increased from two to four per week: not only Iraqi Airways began to fly to Belarus, but also Fly Baghdad (each of them can carry from 200 to 300 people on one flight).
Iraqi resident Amin (name has been changed) told Reform.by that Lukashenka's words that Belarus would stop hindering refugees seeking to enter the EU were shown on Iraqi television for several days in a row. Other Iraqi media began to talk about Belarus more often. In addition, posts about the possibility of moving from Belarus to Lithuania began to appear in closed groups dedicated to migration.
Many Iraqis dream of leaving the country, so they rushed to take the opportunity and bought tours to Belarus, Amin said, explaining how the Iraqi people managed to learn so quickly about the change in Minsk's policy.
As 15min writes, now the way to the EU through Belarus in Iraq is considered the fastest and safest. Smugglers demand, according to various sources, from $ 5,000 to $ 15,000 for transfers across the Belarusian-Lithuanian border (however, there are offers for $ 85,000 as well).
For comparison: illegal entry into Europe by crossing the Aegean Sea costs eight to nine thousand euros, crossing the border in the Balkans - eight thousand euros, crossing the Mediterranean Sea - three to five thousand euros.
According to the smugglers, such "package tours" include obtaining a Belarusian tourist visa, a flight from Iraq to Belarus, a few days' stay in a Minsk hotel, and even excursions. And also travel to the Belarusian-Lithuanian border and subsequent transportation from Lithuania to Germany - this is where most migrants want to get. As the journalists found out, in Belarus, illegal immigrants are usually transported by local residents, in Lithuania and other European countries - by Lithuanians, as well as immigrants from Ukraine, Georgia, Tajikistan, and other countries who have lived in the EU for a long time.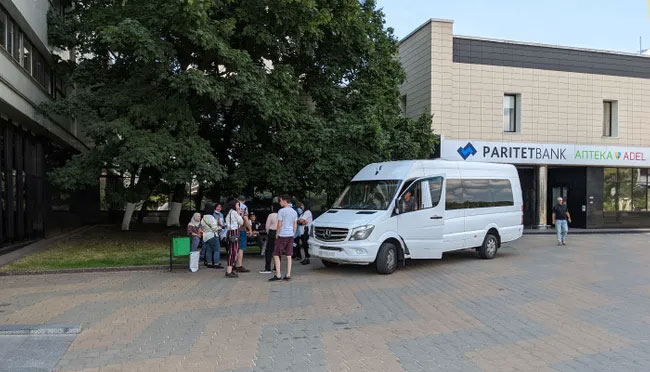 Some people decide to come to Europe and cross the Belarusian-Lithuanian border on their own. It is more difficult and more dangerous, but cheaper.
A regular tour from Iraq to Belarus, according to Reform.by, costs $ 500-1500 (the publication notes that such tours have become noticeably cheaper in recent months, and the demand for them has grown).
"It is interesting that the facilitation of the visa regime between Belarus and Iraq, thanks to which visas for up to 15 days are issued almost automatically, took place only three to four months ago," Indre Makaraityte, head of the LRT investigation bureau, said in an interview with the Belarusian editorial office of Radio Svaboda.
The tour includes airfare, visa, insurance, and hotel accommodation. When foreigners arrive in Minsk, they spend some time in a hotel and look for a way to get to the Lithuanian border.
Some take a taxi ($ 100-300), others choose a bus ($ 10-25). They then - usually in small groups - cross the border by climbing over the wire fencing. They either look for places to go themselves, or they are prompted by a guide (200-2000 dollars).
Once in Lithuania, migrants are looking for a transfer to Germany. Carriers can pick them up from the border itself, but this rarely happens - usually, migrants leave the border towns or Vilnius, where they come on foot. The transportation costs $ 500-1500 per person. But some are trying to get from Vilnius to Berlin with the usual regular bus, which costs 60-70 dollars.
There are telegram and YouTube channels where they advise on how to get from Belarus to Lithuania (some videos collect 10 thousand views). They publish, for example, the contacts of the guides and suitable places for crossing the border, advise how to dress (neat and clean) and what to take with you (minimum of things).
Some groups offer the production of forged documents, including Lithuanian passports. It costs $ 2,400.
Belarus receives money from Iraqi residents who have not returned to their homeland
The Belarusian version of Mediazona and LRT wrote in a joint investigation that Iraqi travel agencies take a deposit of three thousand dollars from clients as a guarantee of return. If the person does not return, the travel agency pays this deposit to Belarus in the form of a "fine."
Reform.by partially confirmed this information. Iraqi Zamir, the administrator of one of the groups for migrants in social networks, said that some (but not all) Iraqi travel agencies actually ask for a deposit, but its size can be different - from three thousand dollars to 1400 dollars. According to Zamir, sometimes the deposit is paid by the tourist himself when buying a tour, and sometimes this money is collected from his family if he has not returned to his homeland.
The head of the LRT investigation bureau, Indre Makaraityte, told the Belarusian edition of Radio Svaboda that Belarus receives money for a tourist who has not returned through the Belarusian consulate in Baghdad.
"We calculated that, since there are almost 900 illegal migrants from Iraq in Lithuania, the Belarusian regime received at least two million euros from this scheme," she said.
And Belarusian border guards ignore illegal migrants
Reform.by spoke anonymously with two Belarusian border guards. Both spoke about unofficial instructions to turn a blind eye to illegal immigrants trying to get to Lithuania.
According to one of the sources of the publication, earlier, border service officers were awarded for the detention of such people, but now it changed. In addition, the illegal immigrants themselves used to be treated more severely: an administrative protocol was drawn up against them, and they were placed in special detention centers until deportation. Now they are simply released. The interlocutor of Reform.by claims that the border guards do not like it.
Recently, the authorities have been instructing the border guards to plan the patrols in a certain way. This means in such a way that there would be a kind of window through which illegal aliens could pass.
There are no direct instructions from the authorities, but when, for example, you tell the chief that the right flank in the border zone is not covered, he replies that it's okay and does not take any measures. <…> It can be seen that smuggling and illegal migration are put on stream. <...> As a result of all this, there is now a large outflow of personnel, many people do not renew their contracts.
Another source, Reform.by, confirmed the words of a colleague.
There was an oral order from the authorities to turn a blind eye to illegal migrants, to detain only in those cases when they become completely impudent and try to pass through the checkpoints. Of course, ordinary border guards do not like this, and people still try to detain the violators. <...> By the way, now, instead of border guards, [special forces of the border troops] are put on guard and patrolling the border, and it is quite possible that the special forces themselves are showing the migrants where to go.
15min, referring to the words of migrants, notes that the situation on the border with Poland is different - there, Belarusian border guards, as before, detain illegal immigrants.
In addition, the newspaper notes that, earlier, the KGB controlled the stay of Iraqi tourists in Belarus. The secret service received their lists and monitored their movements. Now, according to the interlocutor of the publication, there is no such practice.
At the same time, some Belarusian travel agencies (in particular, the state agency TsentrKurort) collect passports of arriving Iraqis. However, this will hardly prevent the escape: some migrants deliberately tear up their passports before crossing the border, believing that, without documents, they have a better chance to get asylum.
Despite the evidence that the Belarusian authorities at least do not prevent illegal migrants from making their way to Lithuania, Reform.by said that they did not find "visible traces of the organization of illegal migration flows by someone from Belarus."
As one of the proofs of this version, the publication cited a dialogue with the Iraqi migrant Amin, who came to Belarus with friends to get to Lithuania on his own. While in Minsk, Amin sent a Reform.by journalist a photo of a board with a city bus schedule and asked: "Which of them go to the border?"
Lithuania toughens rules for migrants
At the end of July, the Lithuanian authorities adopted a law that restricts the rights of illegal migrants. It shortens the processing time for asylum applications and deprives applicants of the right to appeal the decision of the first instance court.
Human rights activists said this law violates human rights. Lithuanian President Gitanas Nauseda agreed, adding that, in his assessment, the law is "full of holes".
- However, now it would be more dangerous to have a leaky policy regarding illegal migration. Now it is better to have such a law than not to have any regulation providing for means to curb the extreme situation on the border of Lithuania with Belarus, - he said, asking the Lithuanian Seimas to correct the shortcomings of the law in the near future.
The fact is that Lithuania is obliged to accommodate illegal migrants on its territory who entered the European Union through its territory and applied for asylum. Also, the country's authorities must provide migrants with housing and food.
In case of refusal of asylum, Lithuania is obliged to deport migrants to the countries from which they came. And deportation to the states of the Middle East and Africa is a long and difficult procedure, Indra Makaraityte, head of the LRT investigation bureau, explained to Radio Liberty.
As a result, there are not enough places in Lithuania for migrants detained after crossing the Belarusian-Lithuanian border. They were settled in empty rest homes, camp sites and schools.
Also, tent camps were erected for them. Lithuanian authorities say migrants have already escaped from a tent camp in the town of Pabrade. In the accommodation center in the city of Ignalina, conflicts began between migrants and the administration (according to the mayor of Ignalina, the migrants refused to eat and demanded that their mobile phones be returned to them). In Deveniškės, residents protested against the resettlement of migrants in one of the city buildings.
The migrants themselves complain about the restriction of freedom, poor living conditions, and the lack of medical care in the places of their resettlement.
- All the people detained in this building suffer psychologically, - Rian from Iraq told Mediazone.
According to him, there have already been suicide attempts among migrants (Reform.by also writes about such attempts). Another Iraqi citizen, Elias, added: "I have already fled so as not to be in Iraq, which is like a prison, but it is the same here."