Priest Viachaslau Barok: Evil Must Be Stopped
3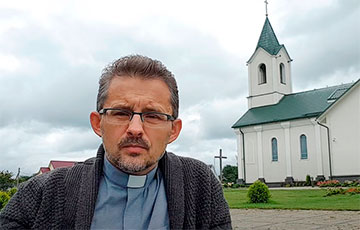 Belarus will never return to the situation in which we lived before the elections.
What has changed in Belarus over the year since the beginning of the mass protests against the Lukashenka regime? What have politics, media, sports, culture, and the church become?
Catholic priest Viachaslau Barok shared his comment with Voice of America:
- Before the protests, the church did not speak openly about the Lukashenka regime, we considered ourselves not entitled to do so. In any case, the Catholic Church tried to distance itself from the regime. And the Orthodox also tried to save face, although the state tried to engage it in "cooperation."
But when the protests began, we felt it necessary to present our position more clearly and give a moral assessment of what was happening. You know, people and the church could have swallowed even the elections, by and large, but when there was massive violence, mockery of innocent people - then the church could not remain silent. We began to call for an end to the violence.
The position of the Orthodox and Catholic Churches was unanimous on this matter. Yes, we did not make joint official statements, but, at the level of ordinary believers, individual parishes, the position was unified: evil must be stopped.
Lukashenka threatened the priests, many of them were and are under pressure, but they continue to do their job.
We have changed a lot during this year. We will never return to the situation in which we lived before. And the more this process is delayed, the clearer it is that the future depends on us - on how we behave and how we set priorities.