Vatican Appoints New Head of the Catholic Church in Belarus
4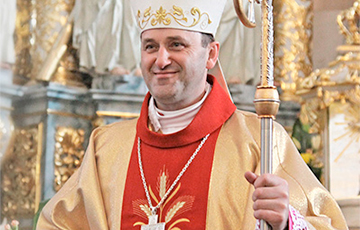 The bishop of the Hrodna diocese replaced Tadevush Kandrusevich in this position.
According to the press service of the Vatican, a new archbishop of the Minsk-Mahiliou archdiocese has been appointed - it is Yuzef Staneuski, the auxiliary bishop of the Hrodna diocese.
After the resignation of Archbishop Tadevush Kandrusevich on January 3 in connection with reaching the age of 75, Bishop Kazimir Velikaselets was the temporary apostolic administrator.
Yuzef Staneuski was born in 1969 in the village of Zanevichy near Hrodna, studied at the military-technical academy, at the Hrodna Theological Seminary, at the Lublin Catholic University in Poland, where he received a master's degree in canon law, having defended his work on the topic "Procedural rights of parties in case of annulment of marriage." He was ordained a priest in 1995. Since 2005, he was the rector of the Higher Theological Seminary in Hrodna.
On November 29, 2013, Pope Francis appointed Jozef Stanevsky as Auxiliary Bishop of the Diocese of Hrodna with the title of the Diocese Tabaicara; he received episcopal consecration on February 1, 2014. On June 3, 2015, he became Secretary General of the Conference of Catholic Bishops of Belarus.
On August 13, 2020, in his blog, Bishop Yuzef Staneuski compared what is happening in Belarus with the fratricide of Abel by Cain: "What are WE doing with the sons and daughters of our Mother Belarus?"