Polish Border Guard Reported About Snipers On Belarusian Side
2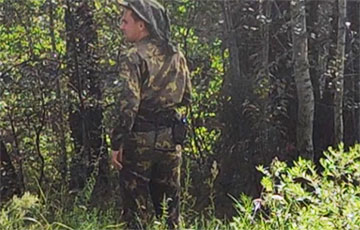 Soldiers with weapons and equipment for combat operations have been seen on the border.
The Polish Border Guard Service has published photos of the Belarusian security forces on the border. Warsaw claims that the uncommon for these places soldiers have sniper rifles.
"Border Guard officers have long observed officers and soldiers from the Belarusian side near the border with Poland who have not been seen at the border before. Their uniforms and equipment may indicate that they do not belong to the Border Guard," Polish border guards reported on Twitter.
Funkcjonariusze Straży Granicznej od dłuższego już czasu obserwują po stronie białoruskiej🇧🇾 przy granicy z Polską funkcjonariuszy bądź żołnierzy, którzy nie byli wcześniej widziani przy tej granicy. Ich umundurowanie i wyposażenie może wskazywać, że nie są to służby graniczne. pic.twitter.com/7rmpX2Ye6I

— Straż Graniczna (@Straz_Graniczna) September 22, 2021
This message was confirmed by Stanisław Żaryn, a spokesman for Poland's minister-coordinator of special services.
Potwierdzam! W pasie przygranicznym z Polską identyfikowani są żołnierze m. in. jednostek powietrzno-desantowych, służby do zadań specjalnych PKG RB, czy OMONU. Niektórzy żołnierze dysponują m. in. karabinami snajperskimi. 1/2 https://t.co/bqJZQxsz4d

— Stanisław Żaryn (@StZaryn) September 22, 2021
According to him, soldiers of airborne units, special-purpose units of the KGB or the riot police have been identified in the border strip with Polish territory.
"Some soldiers have, in particular, sniper rifles. Soldiers from units that are not engaged in border protection, but in combat operations appear on the border with Polish territory," he wrote.