Lukashenka Arrived in Sochi - And a Strong Flood Began There
24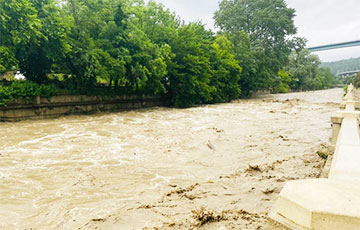 The city was flooded along with Cockroach.
On the night of Saturday, September 25, in the Russian Sochi, as predicted, there was a heavy downpour. All four districts of the city were affected by it, but the heaviest rains were seen in the foothill and mountainous villages of Lazarevsky District. A river in Vardane flooded a section of the federal highway. sochinews.io reports that the traffic there has been halted.
"At present, the traffic has been stopped: the 100-meter section of the A-147 Dzhubga-Sochi road, km 147 (Vardane micro-district) is flooded," the message of the Uprdor Chernomorye FKU says.
Earlier in Sochi, an emergency warning was announced due to bad weather on September 25.
The day before, on September 24, Lukashenka arrived in Sochi on an unannounced visit. Cockroach's press service did not report the visit, and its goals are still not clear.