Andrei Zeltser's Neighbor Told What Happened the Day the Apartment Was Stormed
13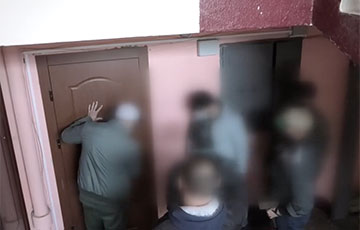 The programmer's wife barely had time to return after taking the child to school.
A woman familiar with the family of Andrei Zeltser, who was killed yesterday by a KGB officer, anonymously told Belsat about what happened on the day the apartment was stormed by the security forces:
"In the morning, the neighbors saw how Masha (Andrei Zeltser's wife - Belsat's comment) took her son to school, and when she returned, it began. We saw three people near the entrance - we paid attention since usually no one is going to this entrance. But Maryja and Andrei's windows don't face the entrance, so they couldn't see. About one o'clock in the afternoon, the neighbors wrote that screams and noise were heard. Then they heard shouts and shots.
I didn't believe about the shots; I thought people imagined things out of fear. Someone was being carried out, and there was an ambulance downstairs. Literally half an hour later, a bus with people left, and another bus arrived. We heard people walking up and down the stairs and saw through the window that no one was allowed in. After what happened, they said their cat ran away somewhere.
I did not go to Masha and Andre's apartment further than the doorstep. An ordinary family, a schoolboy son and a cat. Andrei is an IT specialist - quiet, pleasant, and calm. Masha is talkative. She finished the courses of testers and studied English. She was a little older than him. They were unhappy with the situation in the country but said that they did not go to the rallies because of the child. They were afraid that they would be detained and what would happen to him. But Masha said that they brought water, volunteered."
On September 28, state security officials carried out "special events." Andrei Zeltser, an employee of EPAM Systems, was killed. Also, at the scene of the tragedy, a KGB officer was killed, probably we are talking about Dzmitry Fedasiuk. The incident happened at 29 Yakubouskaha st. in Minsk.