Nick And Mike: Regime Is In Panic
6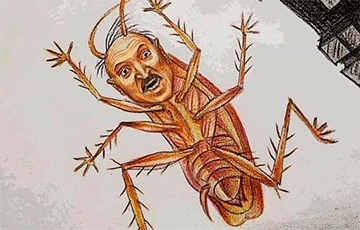 The Belarusian people have to put the foot down.
An inspector, or rather a "Collector" is coming to Minsk. As expected, the junta of the blue-fingered one could not long resist the demonstrative appointment of Boris Gryzlov as ambassador, writes the Nick and Mike telegram channel.
So far everyone has remained silent, but in the near future we can expect an unexpected turn in the same style that preceded the appointment of "The Accountant": "Vova called me up and told me he's a good man".
Other comments are unlikely to follow.
So what was it that made the new ambassador welcome?
Our sources say that the roots are not to be found in Mazepin's visit to Putin. Mazepin is hated fiercely in Minsk, but in the current situation (stoppage of transit of potassium fertilizers from February 1 and termination of the contract with Yara on April 1) they may change their anger for mercy. It is just the final chord. But the visit itself is certainly indicative. Not all visits of businessmen are advertised by the Kremlin.
Moreover, Mazepin took a beating for his attempt to meddle in the resolution of the crisis in Belarus not on the side of the blue-fingered one, and the visit itself was put off for several months. But the situation has changed. There is panic in Minsk. And this is just the beginning of the Kremlin's alternative game.
The main reason was the Kremlin's pressure because of the actual fiasco with the CSTO mission to Kazakhstan. It is noteworthy that the first to "fly out" (in all senses of the word) are the junta's peacekeepers. Of the very same junta, which, in general, decided to force everyone to interfere quickly and get the laurels of winners. However, as rightly pointed out by Andrey Suzdaltsev, the analytics on Kazakhstan is very poor. So what we got was what we got - a quick outcome.
This latest "Akella misses the mark" accelerated the process of sending the collector to Minsk.
A referendum will most likely have to be held. It is unlikely that they will allow to mess with the result ("the people are against"). It will be necessary to go into transit with quite a sad prospect. If not to go, they may not even save from another covid. And they may also make you fight against Ukraine. You wanted a war, now you have it.
It is time to either stock up on popcorn or for the Belarusian people to join the game again and put the foot down, drawing lessons from the mistakes of Belarus-2020 and Kazakhstan-2022. And the democratic forces can conduct a certain regrouping of forces. Especially since the last weeks show that unexpected configurations, in which the main thing is to execute the agreements, are possible.
Active action can only increase the panic and discord.