Aliaksandr Apeykin: Free Athletes Dealt Very Strong Blow To Regime
3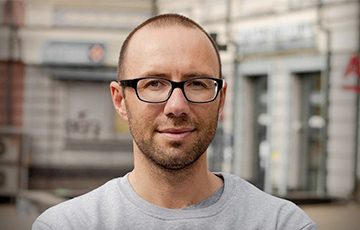 The last "loopholes" are closed for the dictator.
Belarusian athletes were among the first to support the changes in the country. We all remember the streamer "The people are the champion", with which they went to marches every Sunday. Today, the Sports Solidarity Foundation, which unites free athletes, continues to fight for a democratic Belarus in the international arena. Thanks to their activity, a number of competitions were moved from our country. In particular, the Ice Hockey World Championship, which is called Lukashenka's "favorite toy".
Executive Director of the Sports Solidarity Foundation Aliaksandr Apeykin, in an interview with Charter97.org, expressed the opinion that if the Ice Hockey World Cup had been held in Minsk in 2021, the dictator would have managed to avoid sanctions.
-Let's start with your big project. You are currently pursuing a lawsuit against UEFA and ABFF. How is this story progressing?
-Things are progressing quite well. In the spring, it seemed to us that UEFA were meeting us and were ready to deal with this issue. At the same time, they perfectly understood that discrimination against athletes was taking place in Belarus, that in general a repressive system in sports was working. However, in June there was a sharp turn. We were simply refused a disciplinary process.
And then another level of interaction begins. We have to involve very serious specialists who helped us draw up a correct appeal against the UEFA decision. We worked on this appeal, it forced UEFA to start a second process. This happened already in the autumn. Then it became clear that they had no desire to start a disciplinary process. Everyone in this organization was well aware of what was happening, they had a report from the Sports Solidarity Fund on corruption and violations in the Belarusian football.
Everyone understands the situation perfectly, but they do not want to take any action. That is, from our point of view, UEFA's decision is corrupt and, at least, violates its own statutes. But on the other hand, it looked like such inaction and ignorance. There was nothing left but to appeal to the Court of Arbitration for Sport (CAS).
And a very important point is that this court accepted the application for consideration. Roughly speaking, it means there is a subject of consideration. If this were not the case, then the application would have been kicked out at the first stage. The second important point is that the CAS appointed three arbitrators, not just one. If there was one, there would be a risk of some subjective factor. There are three judges here. Accordingly, the review will be unbiased.
Well, judging by these circumstances, there is a feeling that CAS will still force UEFA to comply with its own charter and start an investigation against the Belarusian Football Federation. We are confident in the right CAS solution.
- It turns out that, to put it mildly, international sports associations are not always transparent. Is it possible to say that often you have to fight both the regime and international sports functionaries at the same time?
Yes, almost all of them are non-transparent: FIFA, UEFA, NOC, and other large organizations. The story goes back to about the middle of the 20th century. These are public organizations, respectively, the share of some corruption moments is quite high, but there are just certain general trends.
Throughout the year, we actively cooperated with other international organizations, where we did not encounter such problems. For example, we were able to get through to the IIHF. Despite the fact that everyone told us that this is such a monolithic structure, you won't achieve anything there, you won't transfer any championship and you won't be able to do anything at all. As a result, the championship was postponed and Baskau was disqualified. Therefore, it all depends on each specific organization.
UEFA has a slightly different approach. Apparently, someone is lobbying the Belarusian Football Federation at the very top, or UEFA does not want to create some kind of precedent by turning a blind eye to this. Now is the moment when this issue began to enter the political level. It ceases to be only sports, because the decisions of UEFA are in complete conflict with the general Western European trend regarding Belarus. There is a trend towards isolating the regime, there is a trend towards sanctions decisions, a trend towards pressure on the Belarusian authorities. But at the same time, on the contrary, they continue to finance the Belarusian Football Federation, which is part of the repressive machine. That is, it all goes to the detriment and begins to worry European politicians more and more. Therefore, the issue will continue to burn red-hot in the near future.
- You mentioned the postponement of the World Hockey Championship. Do you think such things hit the dictator hard?
- They hit very hard. The question here is not to hurt any personal ambitions or love for hockey. Here the approach is extremely pragmatic. Lukashenka saw this World Cup solely to legitimize himself. If the Ice Hockey World Championship had taken place, there would have been no fourth and fifth sanctions package, there would have been no plane with Pratasevich, nothing would have happened. Championship in May would have passed, everyone would have clapped their hands, Lukashenka would have rewarded everyone. Some European officials would come to the whole thing, well, the wheel would spin.
Therefore, the championship had to be postponed. Not to take the holiday away from the dictator. The fact is that we took away the platform for legitimizing the regime. And all the postponements, all the cancellations of major sports competitions in Belarus are just depriving the regime of its own platform for legitimization. That's what this is for, and not to harm or annoy Lukashenka. Don't care about him. There is a much broader question. If you hold major international competitions, then one way or another, international federations, international journalists, all sorts of delegates, inspectors, and athletes come to you. Naturally, a show is made from all this.
The same European championship on the cycle track. In normal times, no one would notice it. But in current events, this would make a big PR campaign. Propagandists would tell the whole world: what a cool cycle track we have, what a cool Minsk, what a cool regime, and what a cool Lukashenka. They would show schoolchildren happy or something else. That is, they would arrange PR. At the end, Lukashenka would have come out and awarded everyone with medals. There would be a couple of corrupt delegates, inspectors or commentators who would frame all this as a breakthrough to Europe.
- There is such a common phrase: "sport is out of politics." Can an athlete in Belarus today be out of politics?
- No, it's absolutely out of the question. This is no longer possible on either side. Because if the regime gathers athletes to discuss the new Constitution, then this meeting is no different from the condemnation of the results of the elections by the athletes. There is involvement in politics from both sides. And this is absolutely normal, because athletes are citizens. In Belarus now there is no division into athletes, artists and anyone else. There are citizens who want changes, the best for the country, who understand that Belarus can now lag behind the whole world for a long time. And there is a group of conservative citizens who have a static mindset, who do not want Lukashenka to disappear somewhere. Therefore, athletes are first and foremost citizens. Naturally, they cannot abstractly relate to what is happening. Especially if something crazy happens.
That is, in this case, we are not talking about politics as a struggle between democrats, social democrats and liberals. We are talking about the fact that lawlessness is happening in the country and you cannot somehow be indifferent to this. If you are indifferent to this, then you are an ordinary accomplice. And people who see that lawlessness is happening, but think "I am an athlete, I should be out of it," are deeply mistaken. Lawlessness affects absolutely everyone.
On the other hand, when there is some kind of political struggle, but it is legal and equal for everyone, then it is really not very comme il faut for athletes to participate in election or political campaigns. Although all this began with the arrival of Lukashenka to the post of head of the National Olympic Committee. Athletes have always been participants in Lukashenka's election campaigns. And the first one who dragged Belarusian athletes into politics was Lukashenka himself. Therefore, he has nothing to be offended by.
- After the events of 2020, it was increasingly possible to see the joy of ordinary Belarusians from the defeats of our hockey players, people boycotted football matches. How would you explain it?
- Yes, it exists. There are catastrophic events for the country, and someone pretends that nothing is happening, like, it's neither my headache nor my piece of cake. Therefore, the citizens of Belarus, the fans, perceive this silence on the part of politicians and athletes as complicity in all this. There is horror and crime. There is a real lawlessness - jailing, beating, killing, in general, the fans themselves. Some athletes pretend that "it's okay, we roll the ball further." Accordingly, if you do not react to this in any way, then you become a person with a low moral standard.
This attempt to be "outside" turns out to be precisely the fact that this person becomes closer to an accomplice. Therefore, accordingly, the fans collectively turn away from this.
- You come from handball. Our handball players have always shown pretty good results, we have a good school since the Soviet times. However, why at the state level bets are placed on expensive hockey, which does not bring any results. Maybe it makes sense to pay attention to those sports where we succeed?
- There is a sense, but Lukashenka has a different logic. He idolizes hockey and a thousand other businesses that are now worth nothing. In fact, there is an investment not from profit, but from external borrowing. Hence such a cosmic external debt, for which all citizens of Belarus will pay. In fact, the whims of one person are served by taxpayers. There is no such thing as Lukashenka taking, building or doing something. Sports facilities are loaded on the so-called oligarchs and developers who receive certain places for building housing or other civil construction. The cost of the sports facility is included in the estimate for the construction of this housing. As a result, citizens are also calculated for these square meters. In fact, all sports infrastructure facilities were built by the citizens themselves. And investing in hockey comes at the expense of the population and Lukashenka's personal desire, and not from his pocket.
The events of 2020 took place due to the fact that Belarusians began to realize that "what the hell are we paying for this?", despite the fact that a certain group of "dudes", the same children of the dictator, come and say that these are their achievements. But this is the achievement of the whole country. Well, yes, hockey is not the kind of sport in Belarus that shows something. At the same time, hockey and football are quite expensive sports.
— How do you see the development of Belarusian sports in a free Belarus?
- It is hard to say. It all depends on the socio-economic model. Sport cannot exist independently and will be connected with it one way or another. Accordingly, when the concept of the socio-economic model is formed, then the concept of the development of the sports industry will be formed. But one way or another, sport will develop according to global trends.