Sick Lukashenka Listed Who He Could Have Infected With Coronavirus
9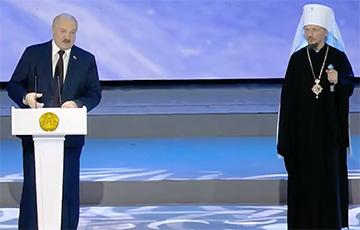 A special unit of the military is among them.
During a trip to Brest region, Lukashenka spoke about the events he attended while being sick with coronavirus.
First of all, according to BelTA, he mentioned the returned from Kazakhstan military contingent of the CSTO: "I did not feel very well, but I could not help coming to the airfield, not to meet my "children" - 250 people, whom I had sent into the unknown".
Also Lukashenka, sick with coronavirus, attended the awarding of the prize "For Spiritual Revival" (after this there were rumours about Metropolitan Veniamin's illness), a church service on Christmas, etc.
"Reception for the Old New Year - I have always welcomed journalists, artists, our cultural figures, officials. How could they not be honoured, rewarded? There were a number of events that could not have been without the president," he said.
The other day Lukashenka said that he had contracted the strain of omicron. In his opinion, he might have contracted the disease during a training session with hockey players who returned from the UAE and were soon diagnosed with the coronavirus.
Previously, Lukashenka stated that no viruses could be seen above the ice field.