Ukraine Conducted Anti-Terrorist Exercise Near Border with Belarus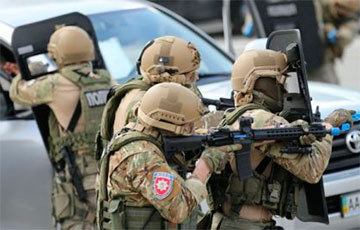 The exercise was conducted in conditions as close to real as possible.
A coordination group of the Anti-Terrorist Centre under the Security Service of Ukraine has conducted exercises to neutralize an enemy sabotage group in the Chernihiv region near the Ukrainian-Belarusian border. According to the State Border Service of Ukraine, the training was carried out in conditions as close to real as possible.
According to the legend of the training, a sabotage and reconnaissance group has entered the territory of the controlled border area of Chernihiv Region. The alleged saboteurs planned to cause significant economic damage to the state and destabilize the social and political situation in the border regions of Ukraine.
The participants in the exercises carried out a set of search, counter-intelligence and filtering activities to identify and neutralize the suspected subversive and reconnaissance group.
In the final phase of training, Special Forces conducted a successful operation on neutralizing "saboteurs" near the border checkpoint.
Apart from the border guards of the Chernihiv detachment, SBU, AFU, National Guard, National Police, State Service of Special Communication and Information Protection, as well as representatives of the executive authorities and local self-government bodies took part in the training.