Lukashenka Suggested Not To Test Belarusians For COVID-19 Despite Increasing Incidence Of Disease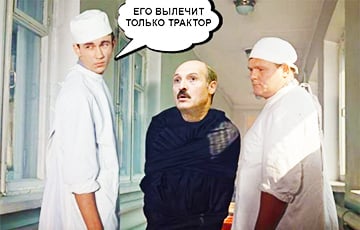 Earlier, the dictator suggested infecting all Belarusians with COVID-19.
Meeting with scientists yesterday, Aliaksandr Lukashenka suggested not testing Belarusians for Covid-19, BelTA informs.
"You know that I control all these processes - treatment for coronavirus. I have my own position on this issue. I do not impose it on anyone, as well as forbid anyone to dominate people. Now they say this Omicron virus is supposedly a milder virus, it rarely leads to death with normal treatment and human behaviour. And I can see it. I control the mortality rate. I see that we don't have this outbreak of mortality compared to the rise of this omicron. And the doctors suggest: maybe we shouldn't test everyone. They suggest only testing those who already have symptoms", said Lukashenka.
Earlier, Lukashenka suggested infecting Belarusians with coronavirus: "One of the American or Western experts said, "If omicron is such an easy virus, let's all get sick and it will be a vaccine for us". From my point of view, it's a perfect suggestion".