Residents Of Kazakhstan Continue To Come Out To Mass Rallies In Centres Of Their Towns
1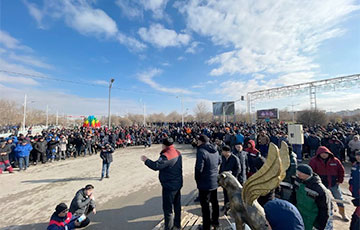 In Aktau, protesters decided not to leave the square.
A revolution is under way in Kazakhstan, with protests taking place across the country.
Kazakhstani citizens continue to come out in droves for massive demonstrations in the centre of their cities.
In Aktau, protesters decided not to leave the square, reported orda_kz.
Thousands of people protested in the town centre of Zhanaozen, Mangistau region.
On Thursday afternoon, the Akim of Zhanaozen, Maksat Ibagarov, and the deputy prosecutor of the Mangistau region, Yerzhan Turmagambetov, appeared before the 6-7 thousand protesters in Zhanaozen square.
According to Prosecutor General Gizat Nurdauletov and state secretary Yerlan Karin, they stated that they "guarantee that none of the local activists will be persecuted".
The mass actions began four days ago with discontent over a sharp increase in the price of liquefied gas, but within days the protesters' demands became more political.
The situation developed rapidly: on the third day, protests spread across the country, there were clashes with the use of stun grenades, and the government was forced to resign.
By the evening of 5 January, protesters had seized a number of government buildings, including the airport in Almaty.