'I Bow To Courage Of Ales Bialiatski'
1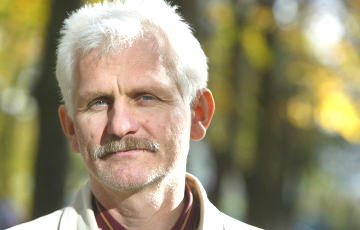 How the world reacted to the awarding of the Nobel Prize to human rights activists.
Some political leaders and organizations reacted immediately to the Nobel Peace Prize. Radio Svaboda journalists collected the first reactions.
Emmanuel Macron, President of France:
"Ales Bialiatski in Belarus, NGO Memorial in Russia, Center for Civil Liberties in Ukraine: The Nobel Peace Prize honors the die-hard defenders of human rights in Europe. Workers for peace, they know they can count on the support of France."
Edgars Rinkēvičs, Minister of Foreign Affairs, Latvia:
"My sincere congratulations to Nobel Peace Prize 2022 winners: Ales Bialiatski from Belarus, Memorial from Russia, and Center for Civil Liberties from Ukraine. Lukashenko has imprisoned human rights defender, Putin has banned Memorial, but the world recognises true heroes."
Annalena Baerbock, German Foreign Minister:
"I bow to the courage of Ales Bialiatski, the Memorial and the Center for Civil Liberties. This Nobel Prize honors all those who bravely fight for their rights and freedoms. Despite the threats to his own life. They fight against the injustice of those who are supposedly stronger."
Ursula von der Leyen, President of the European Commission:
"The Nobel Prize committee has recognized the outstanding courage of the women and men standing against autocracy. They show the true power of civil society in the fight for democracy. Tell their stories. Share their engagement. Help make the world a freer place."
NATO Secretary General Jens Stoltenberg:
"Congratulations to the Ukrainian Center for Civil Liberties, Memorial, and Ales Bialiatski on winning the Nobel Peace Prize. The right to speak truth to power is fundamental to free and open societies."
International Federation of Human Rights:
"This award, the most prestigious of all, is an absolute recognition of the work, courage, mobilization and unwavering commitment of defenders who are part of the same movement: the struggle for freedom and human rights."
"This award is an award for resistance. Resistance to totalitarianism, attempts to silence the voices of those who dare to speak out and denounce human rights violations," Alice Mogwe, President of FIDH.
Social Democratic faction of the Bundestag:
"Congratulations to Ales Bialiatsky, Memorial and the Center for Civil Liberties. Great message for human rights!"
Young European Federalists:
"Ales Bialiatski, Belarusian opposition leader imprisoned by the regime, has received the Nobel Peace Prize. His long-standing peaceful fight for a democratic Belarus has been recognised and will continue inspiring his compatriots to oppose Lukashenka's tyranny."
Sviatlana Aleksievich:
"I consider Bialiatski a legendary figure of the Belarusian struggle. It's not enough to say he deserved this. It has long been his award."