Videofact: Lukashenka Is Hardly Able To Drag His Legs
120
23.11.2022, 16:50

102,548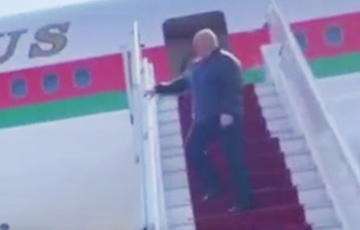 The dictator arrived in Yerevan.
The video that appeared online shows that Lukashenka, who arrived in Yerevan for the CSTO summit, is hardly stepping off a plane.
Lukashenka's health has long been a real secret for Belarusian society, except for a few pieces of news in the media. The biggest story happened after the 2016 presidential election: then anonymous sources reported that the dictator had suffered a stroke.
Лукашенко прилетел в Ереван на саммит ОДКБ.

Диктатор с трудом передвигает ноги. pic.twitter.com/5ib3ivNhKR

— charter97.org (@charter_97) November 23, 2022