'Absolute Massacre': What Awaits Invaders During Offensive From Belarus
32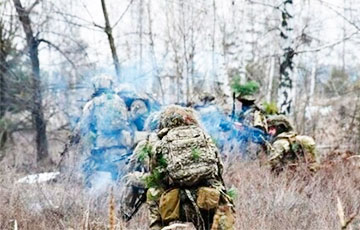 The Russian Federation is preparing a new campaign against Kyiv from the north.
Russia may repeat its failed campaign against Kyiv with an invasion from the territory of Belarus. Such a scenario is being worked out by the General Staff of the Russian Federation. This was stated in an interview with journalist Yulia Latynina on YouTube by a well-known Russian human rights activist, leader of the Gulagu.net organization Vladimir Osechkin, referring to an informed source in the military leadership of the Russian Federation.
"We received a letter a few days ago from a person who is directly related to the General Staff of the Ministry of Defense. An invasion plan from Belarus is being considered," the human rights activist said.
He noted that after the flight of the Russian army, the Ukrainians built a very serious defensive line on the border with Belarus, designed to hold back the aggressor's re-offensive. This includes minefields. And the General Staff of the Russian Federation plans to clear them with the bodies of its soldiers, Osechkin assures.
"They prepared a huge number of prisoners just so that they would go directly, punching a hole in this map of minefields, clearing the way for vehicles," he explained.
The human rights activist also clarified that professional paratroopers, who were previously withdrawn from the right-bank part of the Kherson region, are being transferred to Belarus. Probably, they plan to use them as the main offensive force.
"It's make it or break it for them... This is a repeated second wave of invasion, a lightning-fast throw to take Kyiv… If they really go wild, such a wave of people, it will be the bloodiest massacre in the history of the 21st century," Osechkin said.
He clarified that after the publication of the source's letter, serious checks began at the General Staff of the Armed Forces of the Russian Federation. Intelligence agencies are looking for the source of the leak. And this, in his words, indirectly confirms the accuracy of the information provided.