AFU Dealt Powerful Blow To Russian Troops In Svatove
6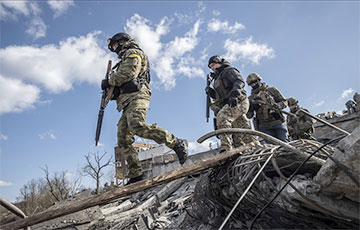 The Ukrainian Army is rapidly advancing towards the key city of the Luhansk region.
The Ukrainian military continues to actively advance towards Svatove destroying the occupiers' deployment points and depots. The enemy is trying to attribute "victories" in Marinka and near Bakhmut.
The Institute for the Study of War (ISW) reported it.
Ukrainian counteroffensive, Luhansk region
On November 29, Russian forces continued to defend against Ukrainian counteroffensive operations northwest of Svatove. According to the General Staff of Ukraine, Russian forces continued standard defensive operations in the Kupyansk axis of the Kharkiv region.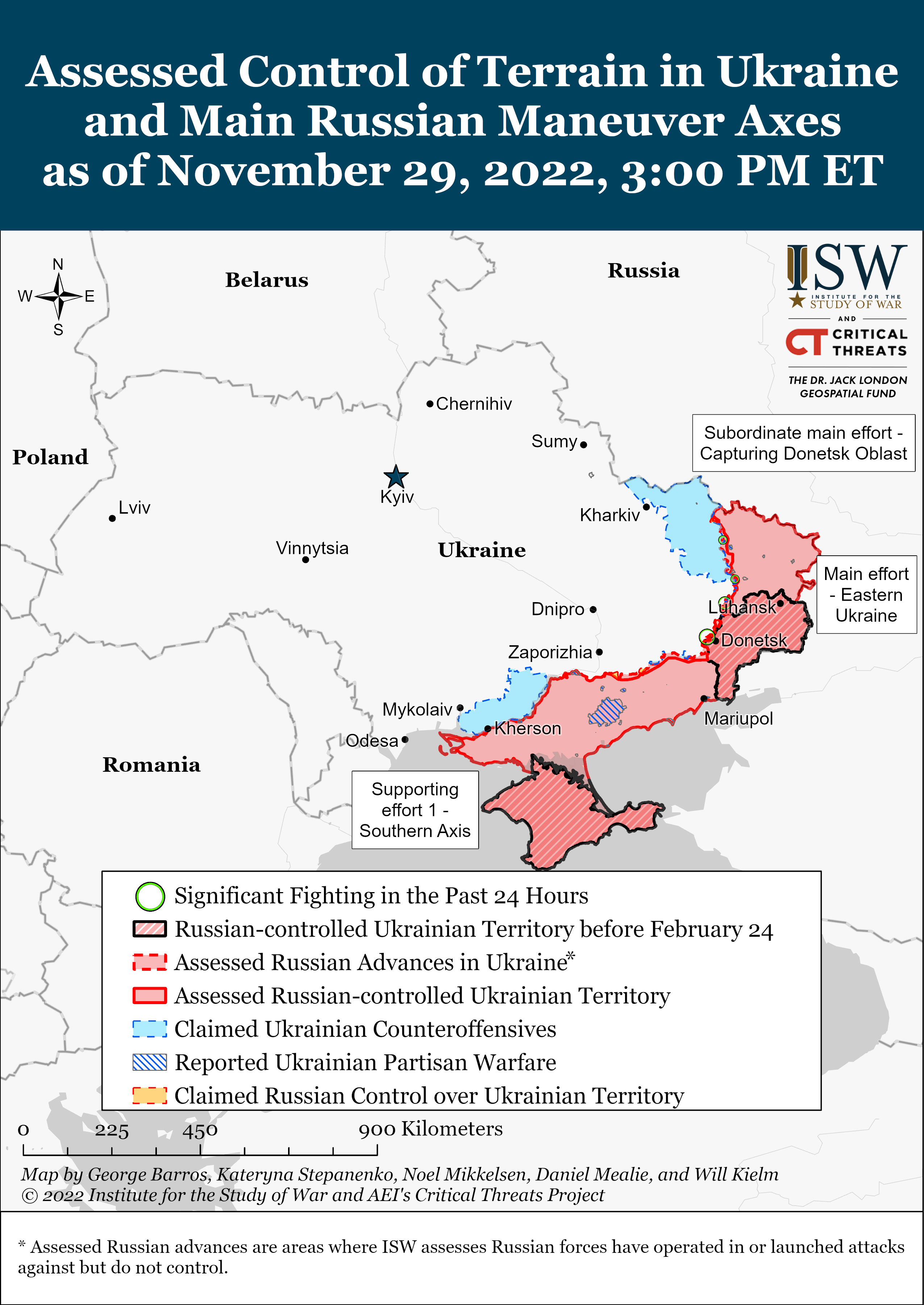 Russian forces are conducting constant artillery attacks on Ukrainian positions in Kupyansk but Ukrainian forces are holding the line and repelling Russian forces.
Ukraine continued counteroffensive operations in the direction of Svatove and Kreminna on November 29. The Ukrainian General Staff reported that Ukrainian forces struck a Russian concentration area in Svatove, Luhansk Oblast, which Luhansk Oblast Head Serhiy Haidai claimed was a deployment point and ammunition depot.
A Russian source said that Russian troops have begun offensive operations on the Svatove-Kreminna line and suggested that in the coming days, hostilities will intensify as the weather improves.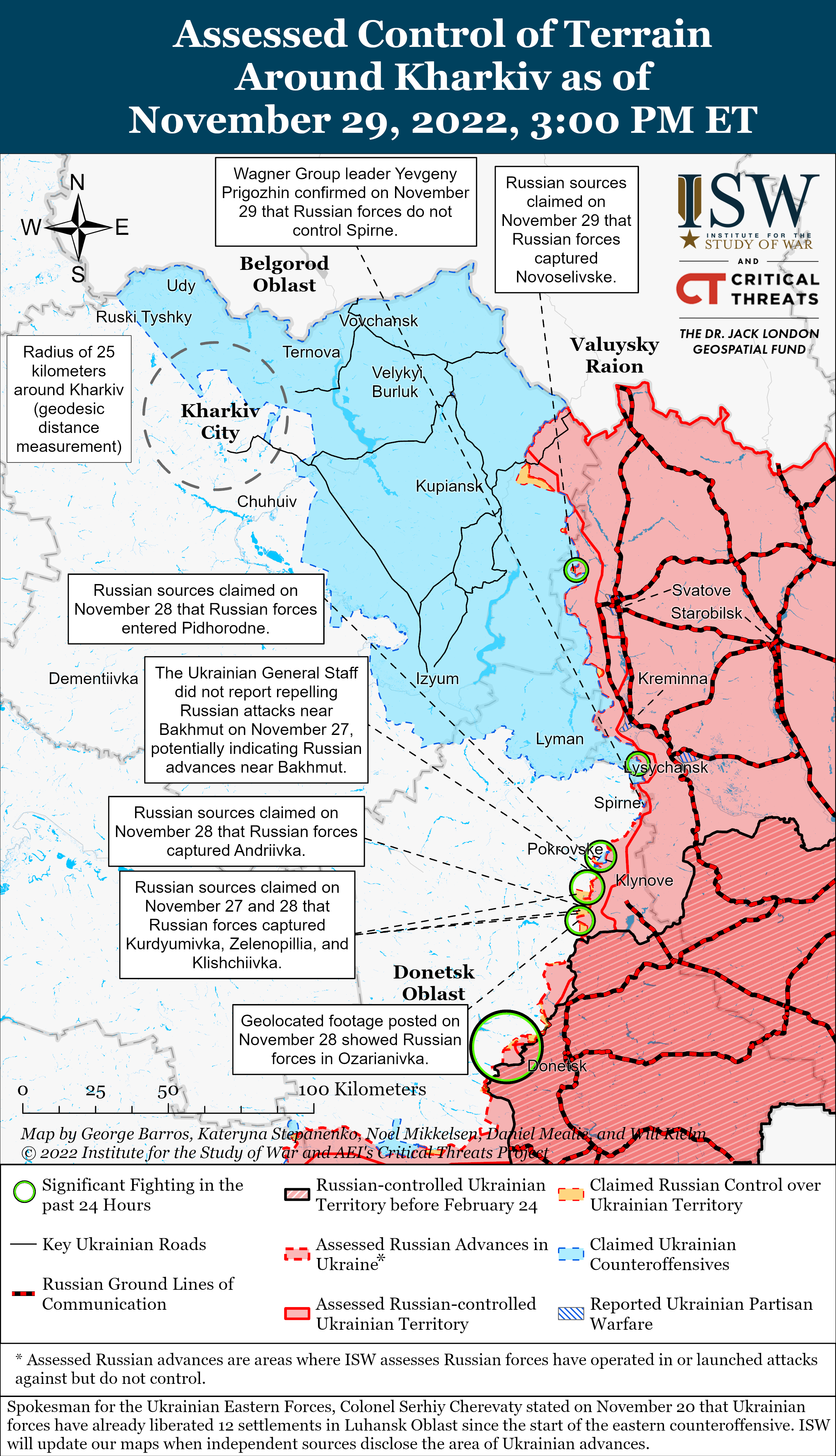 Furthermore, the Ukrainian troops continue to target Russian rear areas in the Luhansk region along critical ground lines of communication (GLOCs) and hit a concentration area in Luhutyne, just southwest of Luhansk City along the H21.
The Ukrainian General Staff reported that Ukrainian forces repelled Russian attacks near Novoselivske (14km northwest of Svatove), while Russian sources claimed that Russian forces seized Novoselivske.
Donbas fights
Russian forces continued to make limited gains around Bakhmut amid reports of heavy fighting in the area on November 29. Geolocated footage posted on November 29 shows that Russian forces advanced on the southeastern outskirts of Bakhmut.
The Ukrainian General Staff reported that Ukrainian forces repelled attacks northeast of Bakhmut near Bakhmutske along the T1302 highway and near Soledar.
Various Russian sources also claimed that Russian forces established control over the Siverskyi-Donets-Donbas canal (13km southwest of Bakhmut), which directly impacts the water supply to Horlivka and Yasynuvata, on November 29.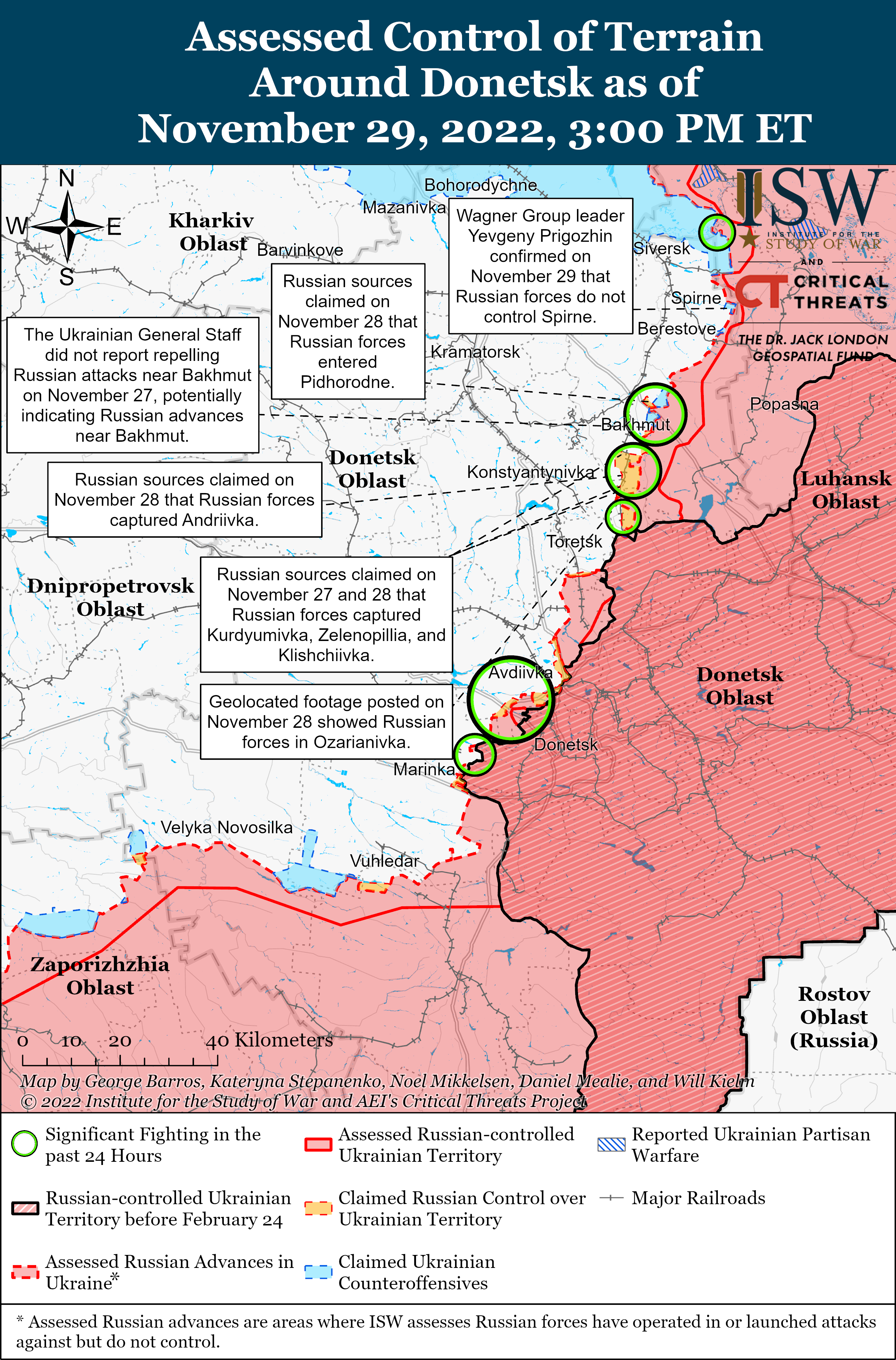 Active operations of the Armed Forces of Ukraine near Svatove and imaginary "victories" of the Russians in Maryinka: map of battles
Some Russian milbloggers made unsubstantiated claims that Russian forces broke through the Ukrainian defensive line south of Bakhmut along the T0513 highway to advance towards Chasiv Yar which, according to ISW, is unlikely.
A Russian milblogger also claimed that Russian forces made progress in Opytne (4km south of Bakhmut) and began a ground attack on Klishchiivka (7km southwest of Bakhmut) on November 29.
Russians prematurely called this operational offensive around Bakhmut the first victory since the capture of Severodonetsk and Lysychansk; however, there is no evidence that Russian forces currently threaten key Ukrainian logistics lines into Bakhmut and ISW continues to assess that Bakhmut is currently not under threat of Russian encirclement.
Russian forces increased offensive operations northeast of Bakhmut around Siversk and Soledar on November 29, likely trying to capitalize on increased morale from claimed Russian successes around Bakhmut.
The Ukrainian General Staff reported that Ukrainian forces repelled attacks near Serebrianka, Verkhnokamianske, Berestove, Bilohorivka, and Yakolivka, all within 35km northeast of Bakhmut.
Russian sources claimed that Russian forces are conducting offensive operations against fierce opposition along the T1302 near Bilohorivka and Yakolivka. They also claimed that Ukrainian forces suffered heavy losses and that Russian forces took Spirne and advanced through Verkhnokamiankse toward Siversk, but Wagner Group financier Yevgeny Prigozhin refuted this claim and stated that fighting is ongoing in Spirne.
Russian sources claimed that Russian forces experienced successes around Avdiivka on November 29. One prominent Russian milblogger claimed that Russian forces control more than two-thirds of Marinka and boasted that Russian forces are succeeding in this area for the first time in eight years. Another Russian milblogger, however, admitted that the pace of Russian advance in this area is slow.
Ukrainian officials reported that Ukrainian forces repelled Russian ground attacks near Pervomaiske, Nevelske, and Krasnohorivka.
Situation in the south
Russian forces continued to strengthen their defensive positions in the east of the Kherson region and on November 29 they carried out planned shelling of the right bank of the Dnipro River.
he Ukrainian General Staff reported that Russian forces increased their administrative law enforcement presence in occupied Kherson region and plan to deploy Rosgvardia (Russian national guard) elements to the area.
As ISW has previously reported, the use of Rosgvardia elements to police rear areas means these elements are unavailable to conduct combat operations at the front or to strengthen existing defenses.
Such Rosgvardia elements may eventually strengthen Russian defensive capabilities throughout occupied Kherson region, supporting ISW's recent assessment that Russian forces take the threat of a possible future Ukrainian counteroffensive seriously.
Geolocated satellite imagery shows that Russian forces built out existing defensive fortifications along and perpendicular to the E58/M14 Kherson City-Melitopol highway near Fedorivka, Volynske, and Stepne, Kherson region, between November 15 and November 28.
Russian forces continued to shell areas along the west (right) bank of the Dnipro River, including Kherson City, Chornobaivka, Antonivka, and Beryslav.
Ukrainian forces continued to strike at Russian troop concentrations and military installations. The Ukrainian General Staff reported Ukrainian strikes on November 27 against four areas of Russian force concentrations, including Polohy, Tokmak, and Basan, Zaporizhia Oblast (all along the T0401 highway), inflicting losses of 470 personnel, 50 pieces of military equipment, and unspecified amounts of ammunition.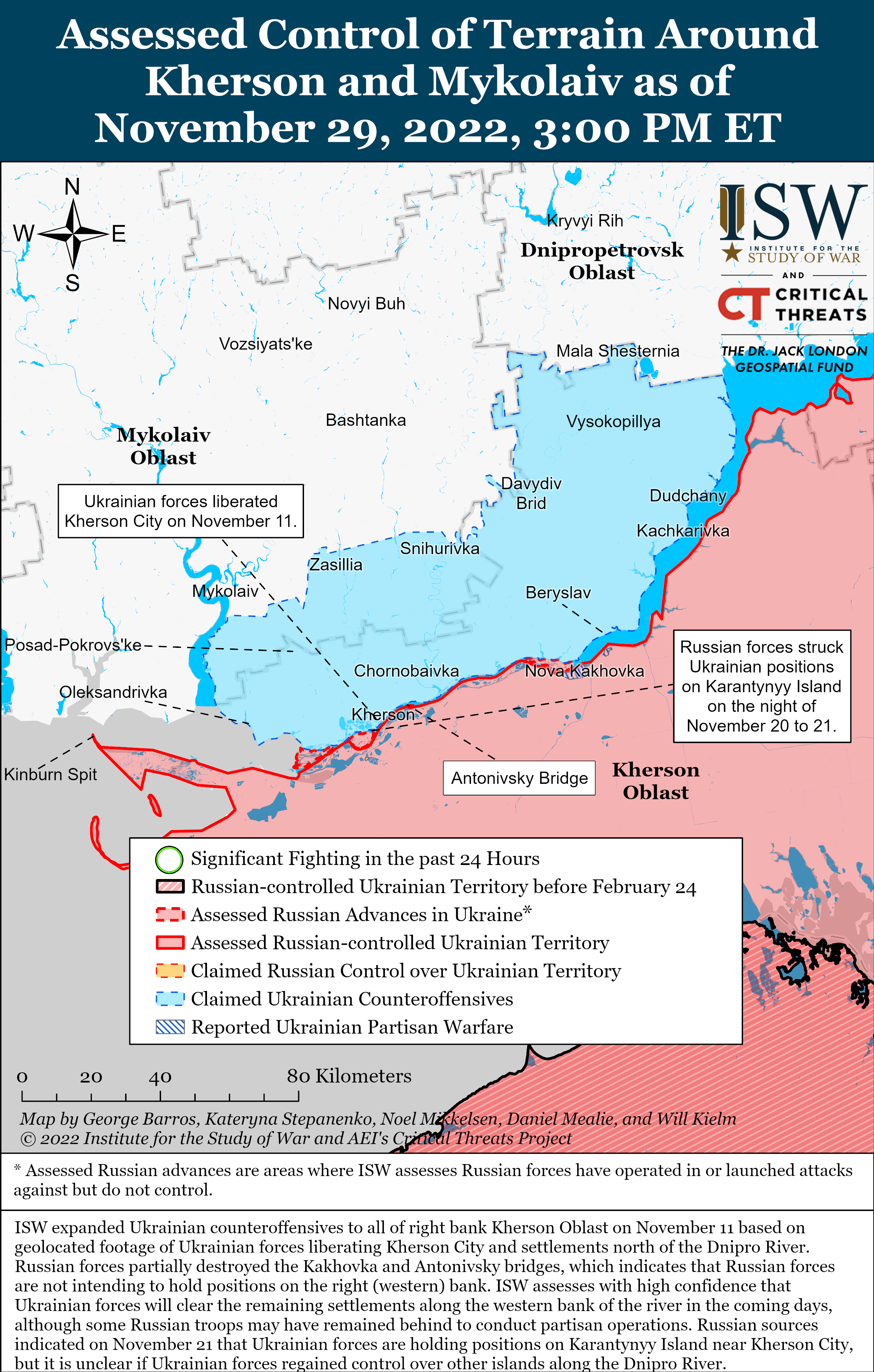 Ukrainian sources reported explosions in Skadovsk, Henichesk, and Novooleksiivka, Kherson region on November 29, possibly from Ukrainian strikes. The Russian MoD claimed that Russian air defenses intercepted two Ukrainian Uragan MLRS rockets near Nova Kakhovka.
Russian forces continued routine shelling west of Hulyaipole and in Dnipropetrovsk region on November 29. Russian and Ukrainian sources reported that Russian forces struck Dnipro City and Synelnukove (40m southeast of Dnipro City) overnight.
Russian forces shelled Nikopol and Marhanets, Dnipropetrovsk region.