Ukrainian Soldier Could Have Been Wounded In Heart, But 'Miracle' Happens
4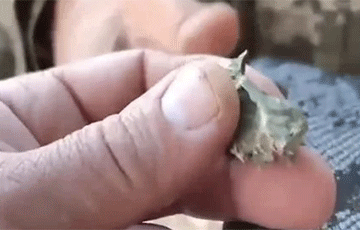 AFU fighters are called "cyborgs" for a reason.
Sometimes there are moments at the Ukrainian-Russian front that can't be called anything but a "miracle".
So, recently a video was published on the Internet, which shows how an ordinary leather wallet stopped a fragment from an enemy shell, which could hit an AFU soldier right in the heart, reports the Ukraine 365 telegram channel.
The video also shows that along with the wallet, some kind of document "took part" in repelling the Russian shrapnel: apparently, the military ID card of the Ukrainian soldier with the call sign "Barin".
One can also see the hole that the shrapnel made in the uniform of the AFU soldier just at chest level. Had it not been for the wallet and the "military card", the metal might well have penetrated our soldier's heart. The video points out that Ukrainian soldiers are called "cyborgs" for a reason.