Andrei Sharenda: I Had To Escape From House Arrest
3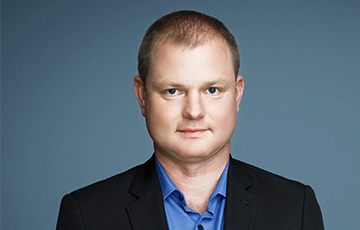 Lukashenka is afraid of Belarusian solidarity.
Palina Sharenda-Panasiuk, an activist of the European Belarus civil campaign, has been jailed in harsh conditions for more than two years. Her husband Andrei Sharenda, coordinator of the European Belarus civil campaign, spoke about the difficulties their family had to face after Palina's arrest in an interview with the Studio X97 show by Charter97.org.
Subscribe to the Charter'97 Youtube channel - charter97video. Share the video with your friends. Like and write comments.
— In 2021, you decided to leave Belarus. Are you and your children in Lithuania now?
— I was under house arrest. I had to escape from house arrest, I had to illegally cross the border with Lithuania. There was a very complicated process to get the children out of Belarus. The regime interfered. I was able to see and hug my children only after 9 months.
Yes, now my children are with me, they are in Lithuania. We are starting our lives anew, but I am sure that we will soon be able to return to Belarus.
— How old are the children now?
— Now the elder is 13 years old, the younger is 6.
— What do they ask about their mom?
— The children are old enough to understand what happened, where their mother is. Yes, it was difficult at first. The first six months, the first few months. When Palina was taken away, the younger was 4 years old, the elder had just turned 11.
The younger one often ran up to the bed and asked: "Where is mom, I can't find her." It was very difficult. But, fortunately, time heals and I try my best to replace both the mother and the whole family with myself so that the family is complete. Now, yes, the children feel better, they all understand where their mother is, what the situation is now in Belarus.
— And what do you tell them when they ask when their mother will return?
— The elder understands that mom will return only when Lukashenka leaves, when the situation changes. But I tell the younger one that soon, if not in a month, then soon. Soon we will all get together. Soon we will all go on vacation somewhere. Soon we will return to Belarus together.
— What can ordinary people do for political prisoners now? Because when it started — 2020, arrests, a new, stronger wave of arrests — there was a desire to write letters, to help. But we do understand that over time it all fades away. How to keep this attention? What else can be done now?
— Now, especially in the situation of the war in Ukraine, the topic of Belarusian political prisoners, even Belarus itself, has faded into the background. What kind of support is needed? This is support, first of all, for the families of political prisoners, because it is hard for them now.
Even psychological support is very important. When I was in Belarus, when I was even under house arrest, it was important when a person just comes up to you on the street, recognizes and expresses words of support. This is very important, it is very supportive and this is our solidarity. And solidarity is one of the ways of our victory. And solidarity is one way of our victory. And the Lukashenka regime cannot fight this manifestation of simple human solidarity in any way. And that also scares him a lot.