AFU Demolish 'Wangerites' Near Bakhmut
3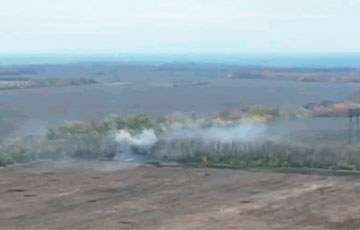 The destruction of the invaders with the help of the Crab howitzer and a drone was caught on video.
The Ukrainian military masterfully destroyed Russian mercenaries from Wagner PMC near Bakhmut. The Armed Forces of Ukraine attacked the invaders at the right time, as they were preparing the rotation.
In the positions near Bakhmut, mercenaries from the Wagner PMC dug in and disguised themselves. However, all the actions of the Russian invaders were carried out under the supervision of Ukrainian soldiers from 71 separate Jäger brigades of the Airborne Forces. This was reported by the press service of the brigade.
The Armed Forces of Ukraine unexpectedly covered the 'Wagnerites' with powerful fire when the invaders planned a rotation. The Polish Crab howitzer with the support of a drone worked against the aggressor's troops.
The Ukrainian fighters noted that the losses of the occupiers could no longer be counted. However, one of the "Wagnerites" survived, probably to warn the invaders how skillful the Ukrainian artillerymen are.