Ukrainian Diplomats Receive Parcels With Animal Eyes
20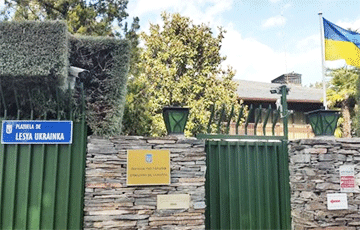 Ukrainian embassies and consulates have tightened security.
A few days after the explosion at the Ukrainian embassy in Madrid, the Ukrainian diplomatic missions in six more countries received blood-stained packages. The packages contained the eyes of animals.
The speaker of the Ministry of Foreign Affairs of Ukraine Oleh Mykolenko reported it on his Facebook. page.
"Ukrainian embassies and consulates continue to receive threats. After the terrorist attack in Spain, our embassies in Hungary, the Netherlands, Poland, Croatia, Italy, the consulates general in Naples and Krakow, the consulate in Brno received bloody packages. The packages contained animal eyes. The packages were soaked with liquid of a specific color and had a certain smell", he said.
Also, the apartment of the Ukrainian ambassador in the Vatican was vandalized, and the embassy in the Republic of Kazakhstan received a false report about an explosive device.
The Ukrainian embassy in the United States received a letter with an article criticizing Ukraine. Like most of the other envelopes, the letter came from a European country.
"We have reason to believe that a well-planned campaign of terror and intimidation of Ukrainian embassies and consulates is taking place. Unable to stop Ukraine on the diplomatic front, they are trying to intimidate us. However, I can say at once that these attempts are in vain. We will continue to work effectively for the victory of Ukraine", Dmytro Kuleba, Minister of Foreign Affairs of Ukraine, commented on the incident.
All Ukrainian embassies and diplomatic missions have tightened security.
The Ukrainian side is already cooperating with law enforcement officers of a number of states to investigate all cases of threats, identify and prosecute those involved in the incidents.
"Ukrainian diplomats will continue to work successfully to strengthen Ukraine's defense capabilities and provide Ukrainians with the necessary energy equipment to get through the winter," Mykolenko summarized.