Polish President: Russia's Defeat In Ukraine Would Help To De-Occupy Georgia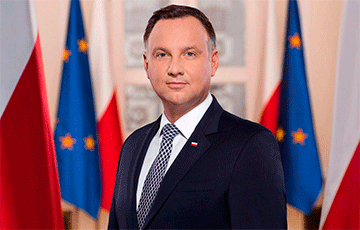 Andrzej Duda has held a meeting with the President of Georgia.
Polish President Andrzej Duda believes the restoration of Georgia's territorial integrity is associated with Russia's defeat in a full-scale war with Ukraine.
According to Novosti-Georgia, Duda said this at a joint briefing with Georgian President Salome Zurabishvili in Warsaw on Monday.
"Russia must leave the territory of Ukraine, must stop this war... We hope that Russia will soon be defeated and return the territories it has conquered, not only in Ukraine but also in other countries. This will also concern the occupied territories of Georgia," he said.
The Polish President reminded about Lech Kaczynski's visit to Georgia in 2008 which was an expression of support during the Russian-Georgian war.
"His statement during that action was prophetic: "Today Georgia, tomorrow Ukraine, then the Baltic States and then Poland will probably become a turning point in this aggressive history... President Kaczynski said then that if we don't stop Russia, its aggression will take on a larger scale," he said.
Duda also expressed full support for Georgia's European aspirations and its desire to become a member of the European Union and NATO.
"Poland has always supported these aspirations of Georgia and will continue to do so. This is a matter of our common security," he said, adding that membership in the EU and NATO would provide Georgia with more favourable conditions for economic development and political security.
As you know, Russian troops invaded Georgia in August 2008, occupying one fifth of its territory and proclaiming two proxy unrecognised states, South Ossetia and Abkhazia.