Ministry of Health Is Cheating
2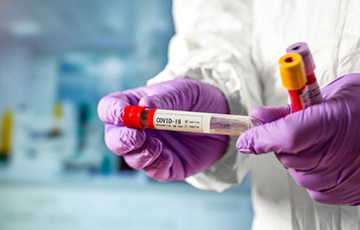 Tests for COVID-19 are no longer being done in Belarus.
Keeping in mind the order of the Ministry of Health to no longer perform Covid tests for people who go to the clinic with symptoms of SARS, the logical question arose, how, in fact, is the diagnosis made and what code is put on the sick leave.
We want to recall that the Ministry of Health ordered to make diagnoses "according to symptoms" or, more simply, "by eye".
White Сoats telegram channel talked with doctors working in the outpatient department and tested the waters a little.
Some clinics are still testing patients, but not all. Tests are usually performed on patients with more severe illnesses requiring hospitalization.
So, how can a diagnosis of 'Coronavirus infection' coding as 'B34.2' be made?
The simplest thing: the patient comes with a Covid test already performed in a private laboratory and with documentary evidence.
The patient comes with SARS symptoms and an antigen test with two strips. Antigen tests are purchased from pharmacies and performed independently.
The patient comes with SARS symptoms and tells about contacts with a sick person with a confirmed Covid case.
The most complicated thing is to detect Covid only on complaints of severe weakness, high fever, headache, irritated throat.
In the latter case, unlikely all the patients will be officially recognized as such, since there is no objective laboratory confirmation of the diagnoses, and the clinical findings of the disease caused by Omicron does not have significant and fundamental differences from the ordinary SARS, and there will be no specific symptoms to detect Covid-19 for sure.
From an epidemiological point of view, now almost every case of SARS can turn out to be Covid due to the high infectiousness of Omicron. However, making a diagnosis without laboratory confirmation of the presence of a specific pathogen in the body is still slightly unscientific.
The good news is that many patients come to their appointments with Covid tests already done, and doctors can make accurate diagnoses.
As for statistics, all (make no difference matter with or without a test) the cases of coronavirus infection made per day are collected in a general list and transferred for general reporting.
We do not know what happens to these lists at the level of the Ministry of Health.
It could be assumed that the order to issue a COVID-19 diagnosis without tests is a good idea of the Ministry of Health, and it is designed to simplify the work of doctors, but we see this as just simplifying the possibility of cheating data on Covid statistics.
After all, a much more effective solution would be to supply doctors with a sufficient number of antigen tests in clinics. Then the patient who came to the appointment would immediately take a test and the test result would be ready during the time of medical interview and examination. Antigen tests give positive results from the earliest days of the disease, as is known after symptoms emerge.
Providing clinics and supermarkets with antigen tests, workplace testing, mobile testing stations would also greatly simplify the issue of diagnosing patients before visiting a clinic.