Sarhei Dyleuski: "Omicron" May Shut Down Belarusian Enterprises
3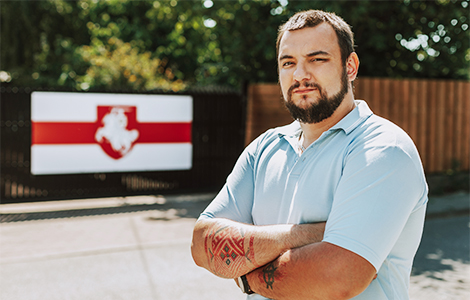 Between 20 and 50 percent of workers are now on sick leave.
The epidemic of the Omicron strain in Belarus has caused not only a collapse in the health care system but also hit Belarusian companies. The COVID-19 outbreak left a number of cities almost without public transport. In Svetlahorsk, Mahiliou and other cities, drivers are en masse sick with coronavirus. Workers of Belarusian plants are also ill.
The Charter97.org website has talked about the situation at factories with the leader of the Belarusian Association of Workers Sarhei Dyleuski:
- I will not exaggerate if I say that the situation is simply catastrophic at the Belarusian enterprises. According to the workers, who are now staying directly in Belarus, from 20 to 50 percent of the workers, depending on the plant, are on sick leave.
No measures to change this situation are being taken by the leadership of the factories. They don't impose any mask regime, quarantine measures or anything. Because of this, there is no information about how many people are going through the disease on their feet.
- Do you have figures for specific plants to give a better idea of the scale of the problem?
- There is some information on the factories. For example, the Minsk Tractor Plant, there is information that about 3,900 to 4,000 thousand people are on sick leave. Information from Salihorsk - every fifth person is on sick leave. If we take Minspetsautatrans, every fourth or every fifth person is sick there.
Prophylactic measures haven't been introduced in the enterprises. They tried to introduce them about four months ago. But then, on orders from above, orders from the country's leadership, all restrictive measures were lifted. All mentions of the covid, the fact that one has to follow some security measures were removed.
- What is the attitude of factory management towards people taking sick leave?
- There is no way management can influence that. Thank God, we have adequate people working in medicine and if a person has confirmed coronavirus, or symptoms of coronavirus - he gets sick leave. And there is nothing the management can do about it.
However, the situation is such that we have to replace people, to look for someone else. A lot of people are called off from their leaves. They are trying to cope somehow, but at this rate, these measures will not last long. If this level of sickness continues for just another week or two, the plants will come to a halt.
It will not have any significant impact on the employees' money, because sick pay is paid by the companies, that's the law. But the enterprises will be badly affected. As it is, the factories are practically all on their knees. And if there is no production, no profit, taking into account the debts of all the enterprises, it can all lead to the situation when they will simply go bankrupt.
Economically it would be better and more profitable to take measures to prevent the pandemic. Up to declaring quarantine and keeping people at home for two weeks to make sure they don't spread the infection.
- How can workers protect themselves and their families under these conditions?
- Keep a social distance, use antiseptics, wear masks, and avoid large gatherings of people as much as possible, including production halls. If possible, stay away from work, take leave, even at your own expense, and wait out, just wait out this pandemic at home.