19-Year-Old Belarusian Timur Mitskievich Fights for Ukraine As Part of Kalinouski's Battalion
17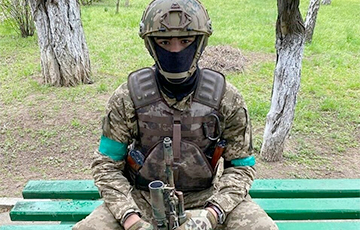 In August 2020, the teenager was in a coma after being beaten by security forces
Journalist Yevgenya Dolgaya posted a photo of the young soldier on her Instagram. His name is Timur Mitskievich. He is one of the men who became known during the 2020 protests. He is now fighting in Ukraine.
"This is the guy who was beaten by the security forces on 12 August to such an extent that he had to be put into an artificial coma. Timur later became a 'suspect' in a criminal case. Timur's mother died and the boy disappeared from hospital. He was "found" only in January. It turned out that he had run away from Belarus. Now Timur is fighting in Ukraine. That's how life suddenly turns," the journalist wrote.
The press service of Belarusian battalion named after Kastus Kalinouski confirms that Timur Mitskievich fights in this very unit.
We shall remind you that on August 13, 2020, 17-year-old Timur was taken to the intensive care unit of the 3rd children's hospital in Minsk. He was taken there from the police department. In the hospital, the boy was in a medically induced coma for a while.
On 3 September 2020, the teenager was detained and taken for questioning under Art. 293 of the Criminal Code (mass disorder). Investigators said that Timur had actively participated in the mass riots and had been involved in an armed attack on a MAZ truck driver. According to the investigators, the young man appeared on CCTV footage on Pritytskogo Street on August 10, where the protests were held.
On 3 September, the boy felt weak at the Investigative Committee. He was taken to hospital. He spent some time in intensive care and on the day of his disappearance, 8 September, he was transferred to a regular hospital ward. Nothing was known about Timur for months after he disappeared. He did not turn up abroad until January 2021.
On 24 September 2020, Timur's mother died at the age of 45, leaving nine children, including seven minors, orphaned.