Al Jazeera TV Channel Shows Refrigerator Wagon Filled With Bodies Of Dead Russian Military In Ukraine
4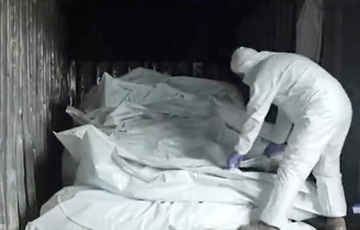 The video has been taken in Kyiv region.
On May 9, the Qatari Al Jazeera TV channel released a report showing, among other things, a refrigerated wagon allegedly filled with the bodies of Russian servicemen killed in Ukraine.
Fragments of uniforms similar to the Russian ones can be seen in the footage, and the label of an armoured waistcoat produced in Russia is also shown.
According to Al Jazeera, the car with the bodies of the dead military was captured on video in Kyiv Region.
- They will be here as long as necessary. The government will decide. Russia does not want to take them away. Each body is evidence of the war crime. Therefore, if they (representatives of the Russian Defence Ministry - ed. note) do not want to take them away, Ukraine will bury them at its own expense," Colonel Volodymyr Lyamzin told reporters.