Trudeau and Scholz Agree to Intensify Economic Isolation of Russia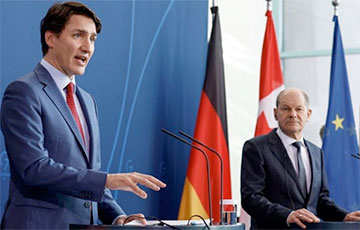 Canada and Germany will work together.
Canadian Prime Minister Justin Trudeau and German Chancellor Olaf Scholz will work together to increase Russia's economic isolation. The leaders have agreed to continue to maintain close coordination to continue support for Ukraine.
The Canadian government's website has reported this.
The interlocutors expressed concern about the global impact of the war in Ukraine, including the implications for energy and food security, it was noted.
"The Prime Minister and Chancellor noted the Ukrainian people for their unwavering courage in the face of the Russian aggression. They confirmed strong support for President Volodymyr Zelensky and his government and pledged continued economic, security and humanitarian support for Ukraine," Trudeau said.
We shall remind you that the G7 leaders announced a joint statement in support of Ukraine following the meeting.
Earlier, it was reported that Canada will provide additional military assistance to Ukraine in the amount of 38.7m dollars. Ottawa will also impose sanctions against forty Russian citizens and five companies.
Furthermore, Justin Trudeau opened the Canadian embassy in Kyiv. On 13 February, the country moved its diplomatic mission to Lviv. Later, the embassy moved to Poland.
Earlier, Trudeau visited Irpin, which was destroyed by the Russian occupiers. He met with the city's mayor there. This is Trudeau's first visit to Ukraine since the war began.