A Lot Of Military Equipment, Soldiers Spotted In Ziabrauka, Belarus, Near Border With Ukraine
41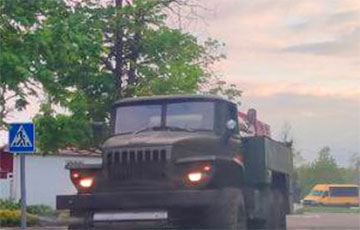 Among them is the occupiers' truck with the "V" sign.
In the Belarusian Ziabrauka (Homel region, not far from the border with Ukraine), a lot of auxiliary military equipment and soldiers have been noticed.
This observation was made by a reader of Flagstaff:
"Yesterday we were in Ziabrauka, there is still that movement, as if I were in a military town. Ural tankers with red squares without numbers, military loaves with Minsk numbers, including sanitary ones, soldiers with red tape, presumably the Armed Forces of the Republic of Belarus, doing shopping. There was also an orc car — a truck with a "V" sign.
At the airfield itself, there are now air defense missile systems that appeared there after the withdrawal of Russian combat helicopters; the territory of the airfield is closed by the military checkpoints.
The Homel authorities want to use the Ziabrauka airfield for training parachute jumps from June 1, but there are no signs of curtailing military functions now.