Media: Medvedev Attempts To Commit Suicide
56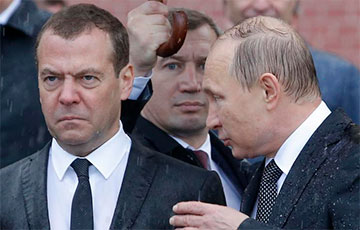 Putin and his immediate circle are mentioned in the suicide note.
According to journalists, the former Russian president tried to commit suicide. A security guard allegedly found Dmitry Medvedev in a state of alcohol intoxication and with a gun in his hand.
This is stated in the news report of the FreeDom project, reports UNIAN. It is reported that it was the security guard who persuaded the former Russian president to give back the gun.
"And the caretaker found five versions of suicide notes in which Medvedev wrote that he was tired of being a puppet. And he blames Putin and his inner circle for his death," the story notes.
Ilya Ponomarev, a Russian political activist, says that he is not surprised by these rumors - they are spreading from inside Russia as a result of the internal Kremlin powers-that-be struggle.
It's no secret that Medvedev came to power in Russia thanks to Putin, and he also refused to run for presidency for the second time because of him.
It is assumed that there is now an internal struggle between Medvedev and Kiriyenko over who will be Putin's successor. Experts argue that Medvedev's demonstrational behavior in recent times is a sign of deep depression, which was the reason for the suicide attempt.
Ilya Ponomarev says that high hopes had been pinned on Medvedev politically, but he has wasted every opportunity. It is for this reason that he is now being criticized. And that might be the reason for his depression.
Journalists had previously reported that since the start of Russia's full-scale invasion of Ukraine, Medvedev has turned into an embittered Russian politician, writing "angry" posts against the West and Ukraine. All his telegram activity is an attempt to drag himself out of political oblivion. But there is a second point of view on his social media posts - they are merely the fulfilment of objectives set by Putin, not his personal initiative.