Putin Gave State Awards To Dozens Of German Businessmen, Government Leaders
7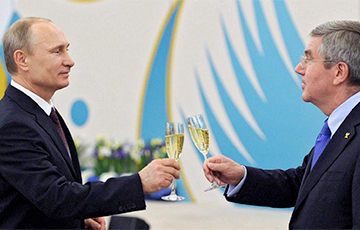 For what merits were they awarded?
Dozens of German businessmen and government leaders over the past 10 years have been granted Russian state awards by Russian dictator Vladimir Putin, Zerkalo Nedeli.Ukraine quotes the article by German publication Die Welt.
According to the newspaper, some German officials now deny that they accepted such awards, or refuse them, in particular, after the start of the war in Ukraine. However, there are those who, on the contrary, do not want to return the award, and, obviously, value it.
So, according to the investigation, since the beginning of his third presidential term in the spring of 2012, Putin has awarded the Order of Honor of the highest degree to three Germans. One of them, Thomas Bach, president of the International Olympic Committee, now denies receiving such an award.
The head of the Semperopernball (Semper Opera Ball is the largest classical entertainment event in the German-speaking world, which has become one of the most important European balls), Hans-Joachim Frey, also denies receiving Russian awards. According to him, the medal "was not presented, and has not been handed over to this day."
At the same time, this award found Nord Stream 2 Managing Director Matthias Warnig and entrepreneur Heinrich Weiss, whose industrial group SMS has been operating in Russia for over 100 years.
During this time, Putin also awarded the Order of Friendship. Some of the laureates eventually returned the award.
Among them is former Prime Minister and SPD leader Matthias Platzeck, who has repeatedly attracted attention because of his closeness to the Kremlin. He received the award personally from Foreign Minister Sergei Lavrov in 2018. Platzeck now says he returned the award in the mail a few days after the start of the war. He named the unjustified aggressive war of Russia in Ukraine as the reason.
Other "medalists", on the contrary, do not want to return the award. Among them are Michael Harms, managing director of the Committee for Eastern European Economic Relations, and Hans Modrow, the last head of the government of the GDR from the SED party.
Other laureates, like businessman Martin Herrenknecht and former president of the German War Graves Commission Reinhard Fuhrer, did not respond to the newspaper's inquiry.