First Video From Burned Down Russian Airbase In Crimea Published
30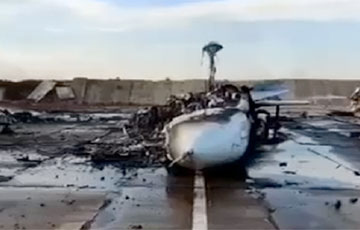 Su-24s have been burnt to the ground.
Ukrainian and Russian media have shown the first video footage from the village of Novofedorivka, where powerful explosions took place at the Saki military airfield yesterday.
This was reported by the press service of the AFU.
In the video, one can see the occupants' Su-24 aircraft burned to the ground.
Oleksiy Arestovych, adviser to the head of the Ukrainian presidential office, told Feygin LIVE that the situation with the enemy equipment at the airfield will be very well visible from satellites.
He said that the scale of destruction there was significant, because the windows almost blew out even in houses one kilometre away from the epicentre of the explosions.
Earlier, the US newspaper New York Times quoted a high-ranking Ukrainian military official as saying that the explosions at the airfield were the work of the Ukrainian Armed Forces.