Just Beginning: AFU's New Targets In Crimea Named
3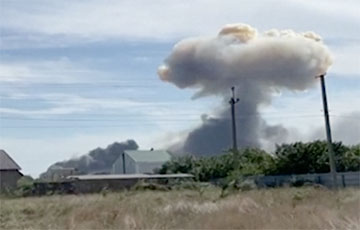 A Crimean spoke about the situation on the peninsula after the attacks on Sevastopol and Kerch.
On Thursday, August 18, explosions were heard at the Belbek air base, which is the largest in the occupied Crimea. The air defense of the invaders worked there, but the Armed Forces of Ukraine are not going to stop — there will be more attacks on the military facilities of the peninsula.
Crimean activist Vasily Samoilov spoke about this on the air of Apostrophe TV.
"At the Belbek airfield, unfortunately, air defense worked in the same way as in Kerch. However, there was an explosion in Belbek followed by the detonation of the ammunition depot, but not as strong as in Dzhankoy, and the fire was localized. One of the depots nevertheless exploded, and there must be at least some victims. But the Russian fascists and those with pro-Putin views in the Crimea are scared of the very fact that such an explosion took place in Belbek," he said.
According to Vasily Samoilov, the information of the invaders that they shot down drones over Sevastopol and the Kerch bridge has not yet been confirmed.
As of August 18, after the explosions in Novofedorivka, there were 30 aircraft at the air base in Belbek — that is, this is the largest military airfield.
The Crimea was instantly flooded with mass panic: the Russians who "come in large numbers" are fleeing from the peninsula. At the exits from Sevastopol, the invaders set up roadblocks. Many people are leaving.
"In Sevastopol, they realized that this was only the beginning, although they thought that Sevastopol was more protected than Dzhankoy, but now their understanding has changed," says Samoilov.
He added that the Crimean partisans are transmitting data to the intelligence of the Armed Forces of Ukraine on the movement of equipment and forces of the invaders across the peninsula and the Kherson region. In terms of logistics, it is now difficult for Russians to use Crimea as a logistics base. As a result of the detonation, about 10 km of the railway track was damaged. All railway communication in Crimea has stopped — it is completely absent, despite the statements of the occupying authorities about the imminent repair.
"What could be the next targets for strikes? These are the Kacha military airport in Sevastopol, as well as Oktyabrske and Hvardiyske," Samoilov said.