UK, US Set Ultimatum Against Russia Due To Provocations At Zaporizhzhia NPP
30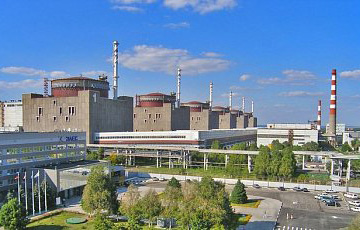 Any deliberate damage will be considered as an attack on NATO and will trigger Article 5 of the Alliance's charter.
The United Kingdom and the United States warned Russia about the consequences of provocations at the Zaporizhzhia nuclear power plant in the occupied Ukrainian city of Energodar. Tobias Ellwood, head of the British Defense Committee, and US Congressman Adam Kinzinger said that any deliberate damage to a strategic facility caused by a potential radiation leak would be treated as an attack on NATO member countries.
This is how politicians reacted to the provocations of the Russian Federation announced by the Russian occupiers at the ZNPP, which Russia intends to accuse Ukraine of committing. Relevant tweets appeared on Ellwood and Kinzinger's Twitter.
"Let's make it clear: ANY deliberate damage causing potential radiation
leak to a Ukrainian nuclear reactor would be a breach of NATO's Article 5," warns Tobias Elwood, commenting on the publication of The Times dedicated to the preparation by the Russian invaders of a provocation at the Zaporizhzhia NPP.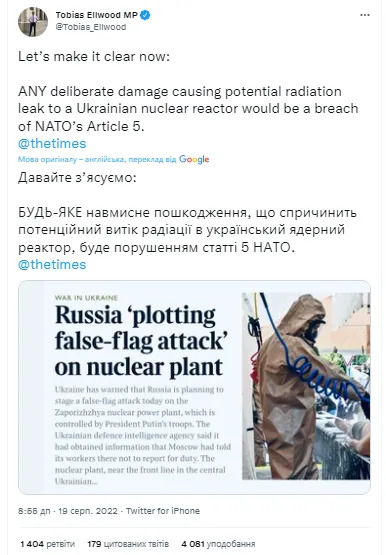 According to Article 5 of the Charter, in the event of an armed attack on any of the states of the Alliance, all other NATO members will consider this act an attack on the entire defense bloc.
American congressman Adam Kinzinger absolutely agrees with Ellwood.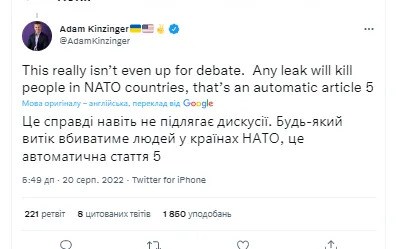 "This really isn't even up for debate. Any leak will kill people in NATO countries, that's an automatic article 5," underlined the member of the US House of Representatives.
According to Ukrainian intelligence, the occupiers can arrange a large-scale terrorist attack at the ZNPP. The Chief Intelligence Directorate noted: given the number of weapons located on the territory of the nuclear power plant, as well as repeated provocative shelling, there is a high probability of a large-scale terrorist attack at a nuclear facility.
The station staff, risking their lives, filmed a video showing a huge amount of Russian weapons and military equipment in the engine room of the ZNPP, CNN confirmed its authenticity.
Earlier, UN Secretary-General António Guterres insisted that "military equipment and personnel should be withdrawn from the plant. Further deployment of forces or equipment to the site must be avoided." Russia rejected this proposal.
At the same time, the occupiers declare their intention to completely stop the ZNPP. Energoatom has already stated that this will bring the scenario of a radiation catastrophe closer.