Azovstal Defenders Exchanged For Medvedchuk In Homel
16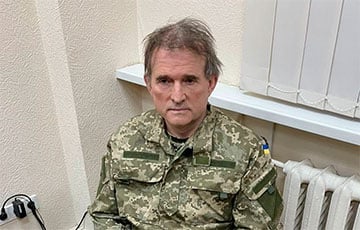 About 200 Ukrainian soldiers were delivered by plane to the Homel airport from the Russian Federation.
Yesterday, the staff of the Homel Airport was isolated in the buildings. The Flagshtok news publisher reports citing a source associated with the state RUE Belaeronavigatsyia that this was done to carry out the exchange of prisoners of war between Russia and Ukraine.
According to Telegram channels, yesterday at 14:40, an Il-76 of the Russian Aerospace Forces with tail number RA-76669 landed at the Homel Airport. Nine hours later (at 22:30) the plane departed.
Thus, about 200 Ukrainian militaries were delivered to the Homel Airport from the Russian Federation by plane, including the defenders of the Mariupol Azovstal Plant, who were taken prisoner by Russia in May 2022.
In exchange for the Ukrainian military, Russia received the so-called godfather of Putin, the pro-Russian politician Medvedchuk, who, after the outbreak of the war, escaped from house arrest and tried to leave Ukraine, and 55 captured Russian military.