Siberia, Far East Rallying Against Mobilization In Russia
49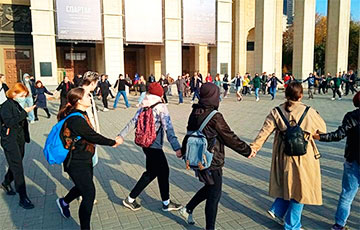 (Updated) In central Russia, protests are announced for 17.00.
Today, protests have been announced in Russian cities against mobilization for the war with Ukraine. Actions are scheduled for 17.00 local time.
Residents of the cities of the Far East and Siberia were the first to protest.
In Novosibirsk, protesters were surrounded by police at protests against "graveyard mobilization", who were peacefully dancing in a round dance. In Tomsk, people are being taken away by the arms, Ateobreaking reports.
An action against mobilization is taking place in Irkutsk. The police are detaining people standing in the park without posters and slogans, reports RusNews. The author of the Irkutsk Anarchist Telegram channel was detained by unidentified men in civilian clothes.
In Novosibirsk, police detained Antonina Khordikova, who went to an anti-war picket with a poster "I am against mobilization". She was detained and they are going to draw up a protocol under the article on discrediting the Russian army, OVD-Info reported.
At the moment, it is known about detentions in Khabarovsk, Irkutsk, Chita, Novosibirsk, Tomsk, and Ulan-Ude.
Updated
The first actions were held in Irkutsk. About 25 people gathered in Kirov Square in the rain. The Irkutsk Anarchist channel reports that in less than an hour of the action, 17 people were detained, including the author of the channel.
Detentions also took place at the protests in Ulan-Ude. Ten people were detained on Teatralnaya Square, including human rights activist Nadezhda Nizovkina, Sibir.Realii reports. According to her, they broadcast the anti-mobilization protest live on her YouTube channel. The police first allowed them to pass, then they pushed everyone into a bus and took them to the Oktyabrsky police department.
"They apparently received an order from their superiors and detained people rather harshly, although we did not violate anything, our behavior did not change," Nizovkina said. According to her, the police threaten the detainees with force, the officers do not give their names, telephones and passports are taken away by force.
According to the human rights project OVD-Info, at least 13 people were detained in Novosibirsk.
10 people were detained in Tomsk, among them journalist Alexander Sakalov, according to the Barkhatnaya Street Telegram channel.
In Chita, during a single picket against mobilization, member of the Civil Solidarity of Transbaikalia movement Marina Salomatova was detained.