Putin's Right Arm Not Working: New Evidence Of Russian President's Sickness
13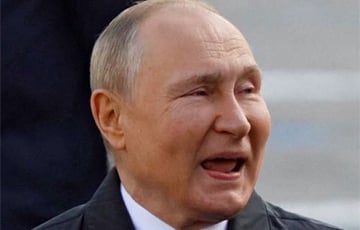 A Turkish journalist has drawn attention to one of the videos.
A Turkish journalist recently noticed that Russian President Vladimir Putin's right arm is not moving.
Before that - in April - a video from a meeting between Putin and Russian Defence Minister Sergei Shoigu was published, showing the Russian leader grasping the table with his hand, and it was better to fix limbs when one hand does not know what the other is doing, says a report by the 1+1 project titled "The Secret Life of a Matryoshka".
"...Just look at his right arm, it is always pinned to the torso, and in some videos he seems to be pushing it up on purpose...Overall, one gets the impression that the limb is hanging down somehow lifeless...," the piece noted.
The journalists added that at the end of July, the Russian president was swatting a mosquito "with one left", although the insect had landed on his right ear.
"A Turkish journalist... noticed that Putin's right hand was not moving... and we all remember this video from the bunker office, showing Putin sitting in a strange pose, with his hand firmly grasping the desk. Of course, when one hand doesn't know what the other is doing, it's better to fix your hands altogether," the story says.
Vladimir Putin's health - what possible problems were reported earlier
In May, the head of the Defence Ministry's main intelligence directorate, Kyrylo Budanov, said that Vladimir Putin was seriously ill. According to him, the Russian president has cancer.
It was later noticed that the Russian leader continued to make compulsive movements with his legs. Neurologist Aleksandra Schebet believes that the head of state may have restless legs syndrome.