'This Is Something Russia Hasn't Seen': Gerasimov Complains About Intense Fighting In Ukraine
33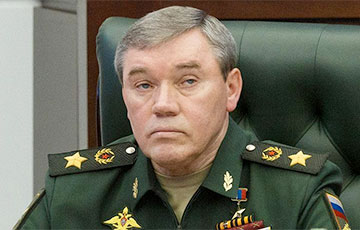 The Russian general began to make excuses for failures at the front.
Russian General Valery Gerasimov, who took command of the occupying forces two weeks ago, complained about the intensity of fighting in Ukraine. He acknowledged that the system in the Russian Federation was not prepared for the realities of sending "mobilized freshmen" to the front.
At the same time, the top occupier from the aggressor country said that allegedly the "special operation" of its troops is so difficult, because they have to fight "against the entire collective West". Gerasimov's words are quoted by Russian media.
"Now, under the leadership of the General Staff, a "special military operation" is being carried out in Ukraine. Modern Russia has never known such a level and intensity of hostilities. Our country and its armed forces today are opposed by almost the entire collective West," Gerasimov tried to justify himself.
He assured that it was supposed to stabilize the situation, "protect new territories", and carry out offensive actions of the Russian Federation, it was necessary to put into effect plans for a "partial" mobilization. Moreover, he emphasized, like, there have been no such events since the Second World War.
According to him, in the course thereof, the General Staff, in cooperation with the subjects of the Russian Federation, called up 300,000 "mobilized newbies" to the army.
"I'd like to stress that the system of mobilization training in our country was not fully adapted to the new modern economic relations. Therefore, everything had to be corrected on the go. Still, as a result of the well-coordinated and professional actions of the officers of the General Staff, in cooperation with the authorities of the constituent entities of the Russian Federation, 300 thousand citizens who were in the reserve were called up for military service," Gerasimov expressed his conviction.
On January 11, Valery Gerasimov was appointed commander of Putin's joint group of troops in Ukraine. His deputies were General of the Army Sergei Surovikin (who was the commander of the occupiers before him), as well as Commander-in-Chief of the RF Ground Forces General Oleg Salyukov, and Deputy Chief of the General Staff Colonel-General Alexei Kim.