Officially: Germany Approves Transfer Of Leopard 2 Tanks To Ukraine
12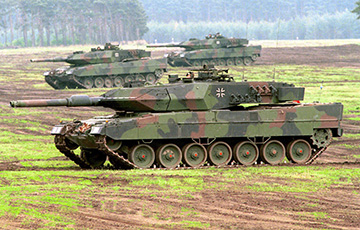 Berlin will send a company of its own tanks, and allow the supply of equipment from other countries.
Ukraine will receive modern German tanks Leopard 2 from partners. Germany has officially confirmed its intentions.
This is reported by the publication Die Welt, which cites the decision of the German government.
As expected, this refers to one company of Leopard 2 tanks (exactly 14 units) from Germany's own stocks.
It is known that this was stated by government spokesman Steffen Hebestrait. He announced the decision of Chancellor Olaf Scholz.
"Germany will transfer 14 Leopard 2 main battle tanks to Ukraine. In addition, the German government has given permission to other states to supply these tanks to Ukraine," he said.
Hebeshtreit added that the move is being coordinated with international partners and aims to "quickly form two tank battalions for Ukraine with Leopard 2 tanks."
Thus, Germany decided to transfer tanks to Ukraine, and also gave the green light to other countries for the supply of modern vehicles to the Ukrainian military.
Earlier, the German media reported that Chancellor Olaf Scholz decided to transfer a company of tanks to Ukraine. According to NATO standards, these are three platoons of 4 tanks each and a control section of another 2 tanks — that is, 14 units.
They were talking about tanks of modern equipment, Leopard 2A6. The first units were planned to be provided from the stocks of the Bundeswehr, and in the future, deliveries could be made from industrial warehouses.
The tank coalition
A number of European countries also announced their readiness to transfer Leopard tanks to Ukraine. In particular, Poland was the first to report on this initiative. However, Germany, as a producing country, must give permission.
The Polish authorities have confirmed that they are ready to provide 14 units of Leopard 2, even without the permission of Germany.
In addition, the President of Finland said that his country was ready to provide tanks, as well as train the Ukrainian military.
Dutch Prime Minister Mark Rutte has announced that he is considering buying out Leopard tanks leased from Germany to transfer them to Ukraine. Probably, this refers to about 18 units of this technique.
Also, according to media reports, Norway, Spain and Portugal can provide Leopard 2 tanks. So far, the authorities of European countries have not officially confirmed this information.