Car Took Off Into Air: AFU Destroy Russian Invaders' Base Near Luhansk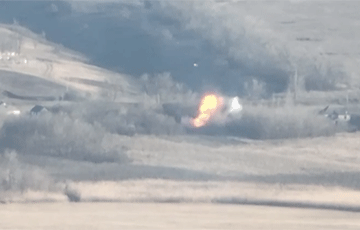 Ukrainian border guards showed a video of a strike on the invaders.
Border guards destroyed an enemy ammunition depot in the Luhansk region. The explosion was so powerful that even a car with a load of invaders soared into the air.
This is reported by the State Border Guard Service.
"Air reconnaissance of the GNSU discovered an enemy ammo depot in the Luhansk region. After waiting for the occupiers to bring resources there, the border guards handed over the coordinates to the artillerymen of the Armed Forces of Ukraine," the report says.
According to the border guards, the rear base was destroyed with a precise blow.
"From the detonation of ammunition, the car that transported the cargo also took off into the air. Enemy losses are being established," the State Border Guard Service added.