Belarusian Women Burned A Three-Meter Portrait Of Putin
14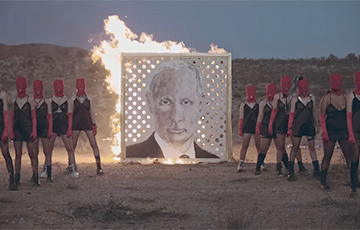 Young women from Belarus took part in the filming of a new music video for the Pussy Riot.
Belarusian women took part in the filming of a new video for the Pussy Riot Russian band. The description of the YouTube video says that the girls "performed a ritual to expel Vladimir Putin from the presidency". The music video is called "Putin's Ashes".
The video was posted on the Pussy Riot YouTube channel. The description says that 12 women from Russia, Belarus and Ukraine starred in the video. The participants burned a three-meter-high portrait of Vladimir Putin, "chanting spells" and "performing a ritual to expel him from the presidency".
Among the "spells" are:
"I'm sharpening a knife for Putin, I won't forgive him for evil."
"I let you burn, burn to the ground, I took you to hell."
The Pussy Riot is a Russian feminist punk rock band. It became famous after the "Blessed Virgin, Kick Putin Out" 2012 action at the Cathedral of Christ the Savior in Moscow. Then three participants, Nadezhda Tolokonnikova, Maria Alyokhina and Ekaterina Samutsevich, were punished and sentenced to imprisonment in a colony on charges of hooliganism.
In 2021, Alyokhina was arrested in Moscow for 15 days for a caricature of Aliaksandr Lukashenka. The activist posted this drawing on her social media page.