Armed Forces Of Ukraine Eliminated Unlucky 'Knight' Schastny
6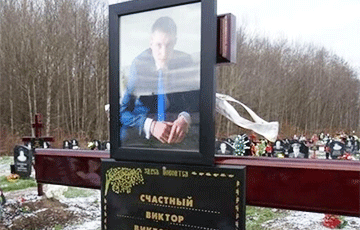 The occupier traveled over a thousand kilometers to die in Ukraine.
During the war in Ukraine, the Russian occupier Viktor Schastny was liquidated. He traveled over a thousand kilometers from Kaliningrad to fight against the Armed Forces of Ukraine.
This was announced by co-founder of the international volunteer community InformNapalm Irakli Komakhidze. At home, the death of the invader was confirmed only the other day (to see the photo, scroll the news to the end).
"The (un)Lucky died. On January 4, 2023, a 29-year-old Russian occupant, (no longer) living in Kaliningrad, Viktor (unlucky) Schastny, was liquidated in Ukraine," the OSINT expert commented.
The occupier was "demilitarized" on Ukrainian soil in early January, but Russian social media reported his death at the end of the month, since the body of the liquidated war criminal had just been delivered to his homeland.
It is noted that he lived in Kaliningrad and volunteered for Putin's war.
"He was buried this weekend at the Mound of Glory military memorial cemetery in the village of Medvedevka, Guryevo district," the report says.
They added that Schastny was a member of the VPK Vityazi (Knights) organization, which is engaged in the preservation and restoration of Fort #5a Lendorf and "participates in the implementation of youth policy projects" of the Russian Federation.
*his surname sounds similar to the Russian word meaning "lucky"