The Emirates Offended Lukashenka So He Flew To Zimbabwe For Applauses
27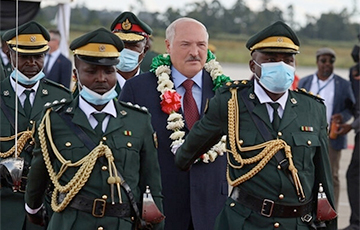 Belarusians ridiculed the dictator's ridiculous trip to Africa.
Yesterday, on January 30, Lukashenka paid an official visit to Zimbabwe. They even put a wreath of artificial flowers around his neck.
The readers of Charter97.org made fun of the usurper's ridiculous voyage. Here are their comments:
'It's symbolic. Flowers from plastic to the dead."
"Looks like a noose around his neck."
"An "excellent" gift, they may also present an aspen stake to him."
"Zimbabwe is under sanctions and in international isolation. One of the poorest countries in the world with almost 90% unemployment, a ruined financial system and a huge external debt. This country is a periphery of the Chinese economic empire (almost half of the trade turnover) and South Africa. Russia's share in trade is minimal, 2-3%, not to mention Belarus.
It's easy to understand the joy of the locals to meet Lukashenka in Harare. It is a common opinion among the people of Zimbabwe to consider all European countries to be very rich. They are expecting support. Lukashenka, who himself lives from loan to loan, played the role of a 'rich white senior in Harare, thinking about 'profitable investments' in the local economy."
"The bald one is looking for somewhere to escape. That's been his main headache for at least a year now."
"He was offended by the Emirates that no one met with him and flew to Zimbabwe for applause."
"Maybe Lukashenka came to Zimbabwe to seek asylum because his choice in this matter is very small."
Later, the Press Service of the dictator reported that Belarus and Zimbabwe had signed a documentation package on cooperation. Also, the countries have signed a memorandum on the mutual recognition of education certificates. Readers of Charter97.org also reacted to this:
"Blue-fingered family of cannibals, I wish you to die in the vastness of Zimbabwe.
Torturers of the Belarusian people!"
"Their only need is to get to the border with the EU. Dear Minsk citizens, now you have a twin city - Harare."
"Luka prepared a refuge there for himself, having learned about the creation of a personal tribunal, and realizing the loss of Russia in the war with Ukraine."
"They even say that secret protocols have been signed on the creation of a union state of Belarus and Zimbabwe and the creation of a joint Belarusian-Zimbabwean army."
"Firstly, the establishment of the Gorodets state farms in Zimbabwe to grow corn and watermelons. Secondly, the construction of ice palaces in the deserts of Zimbabwe. Thirdly, the construction in Zimbabwe of canine breeding centers for spitz dogs."
"Wow, let's live now! Now the economy is in space. Bartering - no comments and the education is so prestigious. Now everyone from the Jagiellonian University will apply there. The cruellest happiness."