Duda Advises Zelensky To Accept Russian Federation Capitulation In Pereyaslav
97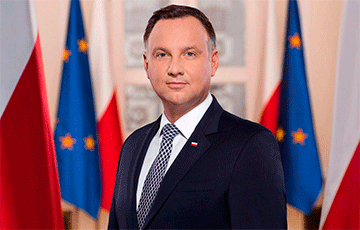 The Russians will come there on their knees.
Polish President Andrzej Duda has advised Ukrainian President Volodymyr Zelenski to accept Russia's capitulation in Pereyaslav.
This was reported by the WPROST weekly.
On January 31, the Polish president and his wife arrived in Latvia. In Riga, he met Poles living in the country and told them about his recent conversation with the Ukrainian president. He said that everyone would like to be able to live with Russia in peace and develop freely, but this is impossible because it is attacking, robbing, killing and trying to take away freedom.
"I say: Volodymyr, looking at our history, how these paths once diverged, I beg you - when you defeat Russia, when Russians come here on their knees to make peace, then take them to Pereyaslav, let them sign peace with you there, let them cross out all those years of Soviet and Russian influence and this captivity from the times of Tsarism until recently, from which you are now defending again," recalled Duda.
In January 1654, Hetman Bohdan Khmelnytsky convened a general military council in Pereyaslav, at the end of which the Hetman and Cossack leaders vowed to "unswervingly be with their lands and cities under the great hand" of the Tsar of Moscow. It was promised to them that all the rights of the Cossack Hetmanate would be protected.
Numerous representatives of Cossack leaders, Cossack regiments and cities, as well as Ukrainian clergy refused to take the oath.
In March 1654, a military-political alliance between the Cossack Hetmanate and the Moscow Tsardom was concluded in Pereyaslav.