Video Fact: Lukashenka Can Hardly Drag His Feet In Zimbabwe
127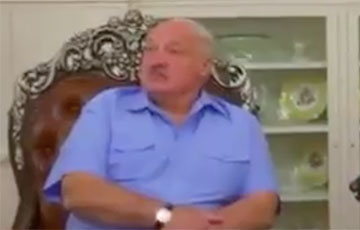 The dictator's face has turned red, like before a stroke.
As Charter97.org reported, Lukashenka's visit to Zimbabwe turned into a "shameful experience" for the dictator.
Lukashenka was welcomed at the airport in Harare by strange dances of local residents in wifebeaters, and a "funeral" wreath was put around the dictator's neck.
Perhaps by doing that the hosts hinted at the elderly dictator's deteriorating health.
To support this theory, political analyst Dzmitry Balkunets published a video of the official reception, where Lukashenka can hardly move his legs, and the dictator's face has a noticeable crimson tint, as it happens before a hemorrhagic stroke.
"Lukashenka can hardly move around. And it is noticeable that the dinner did not go well. The leader is preoccupied with something," Dzmitry Balkunets wrote.
According to medics, a hemorrhagic stroke is accompanied by a sharp rise in blood pressure, with a severe reddening of the face, disruption of gait and coordination of movements. In this type of stroke, blood vessels rupture and bleed into the brain. The fatality rate is up to 35%.
Previously, the media repeatedly noted Lukashenka's health problems. In July 2018, there were reports that the dictator had suffered a stroke. Indirect confirmation was Lukashenka's long absence from the public eye.