Telegram Channels: Lukashenka Preparing Offensive Against Ukraine Near Mazyr
22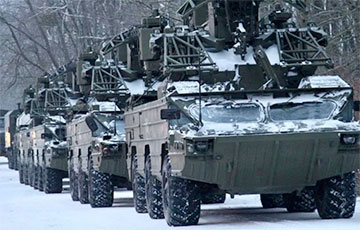 The dictator plans to cut the road Sarny-Kyiv.
Some details of the joint planning of the general staffs of Russia and Belarus have become known. It may somehow help the Ukrainian AFU, reports the Belarusian Intelligence telegram channel.
The planning was carried out in August-September 2022.
Sources of the telegram channel reported that when planning the offensive actions of the "joint" Russian-Belarusian grouping, the experience of operation "Bagration" in the spring of 1944 was taken into account. Rokossovsky's plan is to some extent mirrored in reverse (the details of the routes and directions of strikes on the ground need to be looked at and studied).
The main direction of the offensive is from the Mazyr area. It is intended to use wooded and marshy terrain for the breakthrough on a wide section of the front, off roads. The offensive is supplemented with the "modern" objective of reaching and mastering the "arcade road" border of Sarny-Kyiv.
The scenario of a frosty winter (February-early March), which should have climatically ensured the passage, was considered. Under the current climatic conditions of mild winters, implementation of the plan became impossible. Apparently, this is the reason for the "pause" in the accumulation of personnel.
"The marshes" will become "suitable" for passage, as in 1944, only in late spring.
"If the enemy decides to engage the plan, it will have to shift to late April/early May," summarise the authors of the telegram channel.