Ukrainian Special Forces Ambush 155th Brigade Of Russia, Disrupt Assault In Vuhledar
5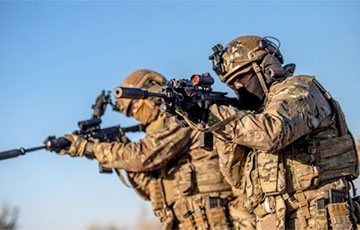 A tank unit of the Russians has been defeated.
Soldiers of the Ukrainian Special Operations Forces have ambushed the enemy rear, destroyed Russian equipment and disrupted an assault by the occupants in the Vuhledar direction.
This was reported by the AFU Special Operations Forces.
The Ukrainians reportedly ambushed a Russian tank unit, the notorious 155th Marine Brigade based in the city of Vladivostok, on the way to advance.
As a result of joint actions of the SOF and the 72nd Independent Mechanized Brigade, an upgraded Russian T-80 tank was destroyed before it even entered the firing position.
In addition, two members of the tank crew, contracted Russian marines, were captured during the battle.
Ukrainian servicemen administered qualified medical aid to the captives and carried them behind the line of battle to the location of the Defence Forces.
"The joint operation of the Ukrainian SOF and the 72nd SMBr took place without losses on our part and disrupted the enemy's planned assault actions in the Vuhledar direction," the military adds.
Earlier, the Charter97.org website reported that the Ukrainian armed forces blew up a large Russian military base near the village of Kyrylivka near Vuhledar. As a result of the strike, around 100 occupants were eliminated.