Zimbabwean Media Revealed The Secret Of Lukashenka And Mnangagwa Negotiations
70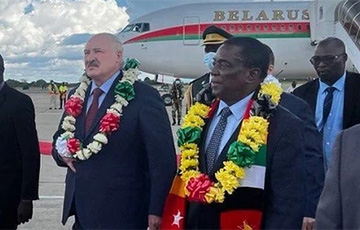 Why did the dictator come to this country?
Lukashenka has promised to build lithium processing plants if lithium concessions are granted to him, according to TheNewsHawks, a Zimbabwean news publisher, citing diplomatic sources.
"The two countries signed eight agreements in different spheres, up to twenty, but in actuality it was about lithium. Mnangagwa and Lukashenka agreed on this during private negotiations," the source said.
The world's largest deposits of lithium metal are in Zimbabwe. Chinese companies are mining it. Zimbabwe banned the export of raw lithium last year to deter foreign companies and smugglers from looting. The ban was later combined with a total ban on non-ferrous metal exports.
Lithium, as well as its compounds and alloys, are critical for the technological development of many industries: the motor vehicles, aircraft construction, metalworks, microelectronics, chemistry and others.
Lithium is most important in the production of high-capacity batteries. A little-known area of the application of lithium is pharmacology. This metal is used for the production of psychotropic drugs.
It is also in demand in heavy industry. Lithium is needed for the smelting and alloying of aluminium, increasing the ductility, strength and recovery of metals.
The key industry, where the mentioned metal cannot be dispensed with, is nuclear energy. Lithium is the only available source of tritium, and it is also used in the manufacture of rods that regulate the reactor protection system.
As the Charter97.org website reported, during Lukashenka's visit, the Zimbabwean media spoke about the scandals associated with the dictator. In addition, Zimbabwean photographers showed in an unsightly light what Lukashenka really looks like.